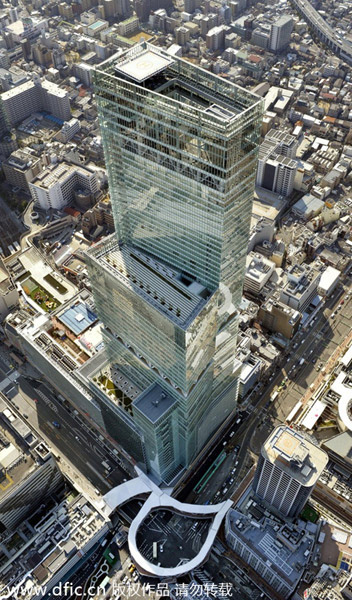 Photo taken from a helicopter shows Japan's tallest skyscraper, the 300-meter Abeno Harukas, which fully opened that day in Osaka, western Japanon March 7, 2014. [Photo/icpress.cn]
OSAKA - The tallest building in Japan opened Friday in Osaka City, where people are expecting the skyscraper to become a new landmark for the western Japanese commercial city to attract more visitors.
The new skyscraper, Abeno Harukas, fully opened in the city's traditional business zone of Abeno, where major railway stations offer connections to Kansai Airport as well as to nearby Nara, Mie and Kyoto prefectures with renowned natural and historical heritage on the JR or Kintetsu lines.
The 300-meter-high tower, constructed by Japan's biggest "private" railway company Kintetsu Corporation, holds a department store, a museum, the Osaka Marriot Hotel, office facilities plus observatory decks with a total floor area of 3,800 square meters on the 58th-60th floors.
Kintetsu President Tetsuya Kobayashi said in Friday's ceremony that the newly opened building itself is only the tangible element, stressing the key to making Abeno Harukas serve as a central facility of Osaka will be the content within and working with local business owners to make the old commercial district more attractive.