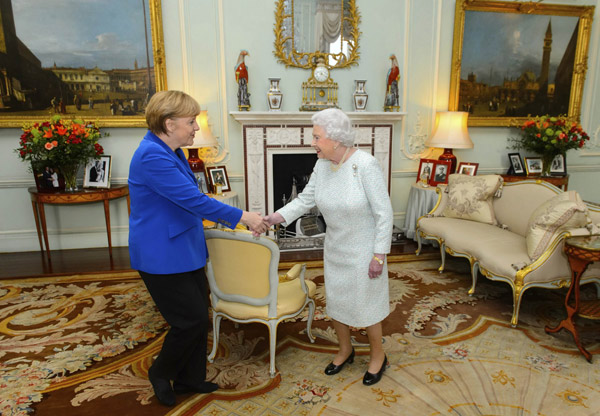 Britain's Queen Elizabeth greets German Chancellor Angela Merkel at Buckingham Palace in central London, Feb 27, 2014. [Photo/Agencies]
"UNMISTAKABLE MESSAGE"
Cameron has so far garnered only limited backing for his plans among other EU states and, though encouraging in places, some regarded Merkel's speech as a sign he would struggle to deliver any radical change.
"The chancellor sent an unmistakable message to London: We hear you and we're with you, tinkering and tailoring yes, but upending and overhauling the European treaties, no way," was how one EU diplomat summarised her speech.
Douglas Alexander, the opposition Labour party's spokesman for foreign affairs, was also sceptical. "Sense that Chancellor Merkel's speech today offered much less to David Cameron than he had hoped or expected," he said on Twitter.
But if he was disappointed, Cameron didn't show it. "I have great confidence the sorts of changes that we're talking about are achievable and will be achieved over the coming years," he told the news conference.
After her address to parliament, Merkel had lunch with Cameron in his offices before taking tea with Queen Elizabeth.
That pomp and circumstance contrasts sharply with an Anglo-French summit last month when President Francois Hollande and Cameron held a news conference in an aircraft hangar before sharing a low-key pub lunch.
Hollande poured cold water on the prospect of EU treaty reform saying it was not a French priority.
Merkel has said repeatedly that she does favour EU treaty change. But she sees it as much more limited in scope than Cameron and as a way of deepening euro zone integration.
"Only through close, binding coordination of economic policy can we avoid, in the longer term, suffering another deep crisis in the euro area. For this I believe we need to adapt the legal foundations of the monetary union in a limited, targeted and speedy way to stabilise the union for the long term," Merkel said.