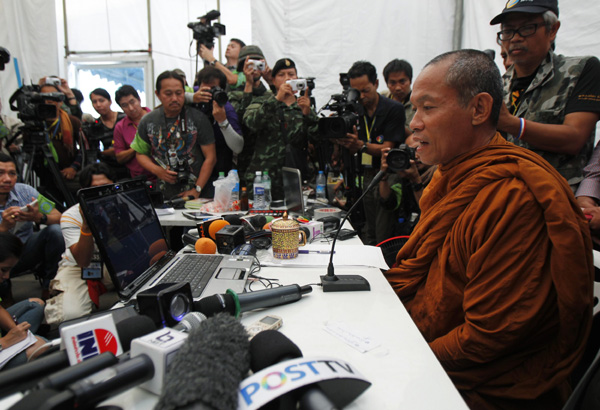 Thai Buddhist monk and protest leader Luang Pu Buddha Issara speaks with police authorities via video conference during a negotiation in Bangkok February 16, 2014. [Photo/Agencies]
BANGKOK - Thai police and a prominent protest leader failed to reach a deal on Sunday to reopen state offices and roads in Bangkok that have been occupied for months by protesters seeking to overthrow Prime Minister Yingluck Shinawatra.
Talks with Buddhist monk Luang Pu Buddha Issara, a protest leader, failed to free up an occupied government complex in the north of the capital as a third day of a security operation designed to retake sites occupied by protesters drew to a close.
Buddha Issara said the government was using a request to reopen roads as an excuse to crack down on protesters.
"If there is blood loss...will the authorities take responsibility? Or will you blame it on provocateurs?," Buddha Issara asked police representatives.
Speaking to the monk during a televised video conference, Naret Nanthachot, commissioner of Provincial Police Region 1, said police would not use force.
"I am asking for your kindness and understanding...tens of thousands of people are frustrated each day by their inability to use roads," said Naret.
Both sides agreed to talk at a later date.
Hundreds of riot police began an operation to reclaim key intersections and state buildings in Bangkok on Friday in what authorities said would be a slow operation to take back areas that have been occupied by protesters for several weeks.
Labour Minister Chalerm Yoobamrung, who is charge of the operation, said the government would continue with its operation and try to reclaim five protest sites next week.
"This gathering has caused distress to others...that's why we have to reclaim the sites starting next week," Chalerm said at a news conference on Sunday.
The security operation has so far avoided larger sites in the city centre occupied by the main protest group, the People's Democratic Reform Committee (PDRC), focusing instead on state offices on the outskirts of Bangkok.
Authorities say the protest movement is dwindling in size, giving security forces an opportunity to try to re-open major thoroughfares and remove barricades that have blocked access to ministries and prevented the government from functioning fully.
Security forces put up little resistance when protesters moved to occupy ministries and major intersections over the past few months, but despite efforts to show restraint 11 people have been killed and hundreds hurt in sporadic violence since the protests began in November.