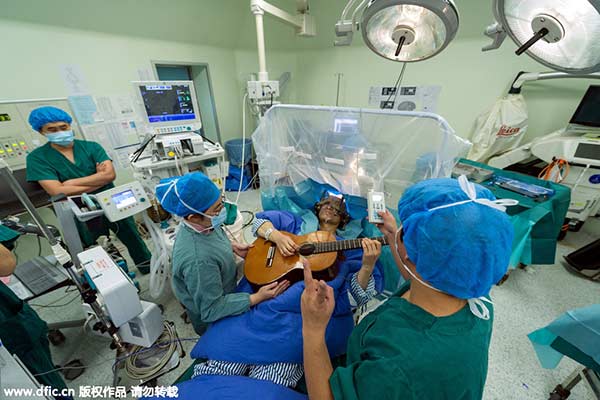 A photo of a musician playing a guitar while undergoing an operation on his cranial nerve in a hospital in South China's Shenzhen, Guangdong province on Jan 25, 2016. [Photo/IC]
A patient playing guitar looks odd in a surgery but actually helps doctors detect his brain signals.
A 57-year-old guitar musician received a brain operation in Shenzhen on Jan 25 as he played his guitar through the whole session.
The patient suffered a rare neurological disease called musician's dystonia.
It is the seventh case in the world and the first one in a Chinese hospital to perform a surgery to cure dystonia using light electricity to stimulate the neurons.
The symptoms for dystonia are muscle stiffness and failures to complete certain skillful routines they are accustomed to doing such as students unable to write and musicians suddenly are unable to play instruments.
The disease affected the muscles in the musician's fingers, depriving him of the strength to play the guitar and write. The problem, which could not be treated with medication, worsened over the years.
Cai Xiaodong, director of the neurology department at the 2nd People's Hospital in Shenzhen, Guangdong, performed the surgery on Li on Jan 25 to "reboot" his finger muscles.
Li was required to remain conscious during the hour-long operation as Cai implanted medical electrodes into the patient's brain and used light electricity to stimulate the neurons controlling Li's finger muscles.
The operation required him to play the guitar allowing doctors to detect and record signals sent by his brain.
The electrodes, charged by batteries implanted under the skin on Li's shoulder, will be able to work for about 10 years.
After three hours, the operation was completed successfully and the musician's right hand was back to normal again.