In today's trending, a mule runs loose on Zhejiang's roads, digital hongbao used to identify distracted workers, fake "Pentagon" erected in Shandong, and man fools robbers that Korean won were Euros.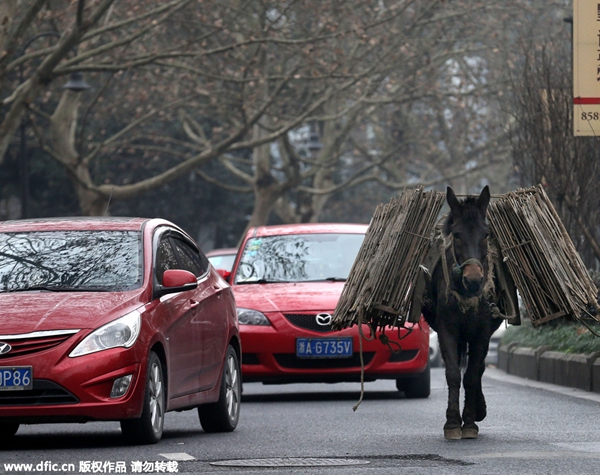 A mule jaywalks on a road in Hangzhou, East China's Zhejiang province on Thursday. [Photo/IC]
A mule at large
All living beings seek freedom, especially when they are forced to do what they do not want to do. An escaped mule proved this rule on Thursday.
The mule, loaded with bamboo rafts, startled pedestrians and passing vehicles, as it jaywalked on the busy roads in Hangzhou, East China's Zhejiang province without its owner's company, zjol.com.cn reported on Thursday.
Some pedestrians tried to drive it away from motorways but failed, until its owner came to the scene on a scooter and took it back under control.
According to its owner, he used the mule to carry construction materials to a construction site but never expected it to escape when he went to the bathroom. He went around everywhere asking the whereabouts of the mule until he finally caught it.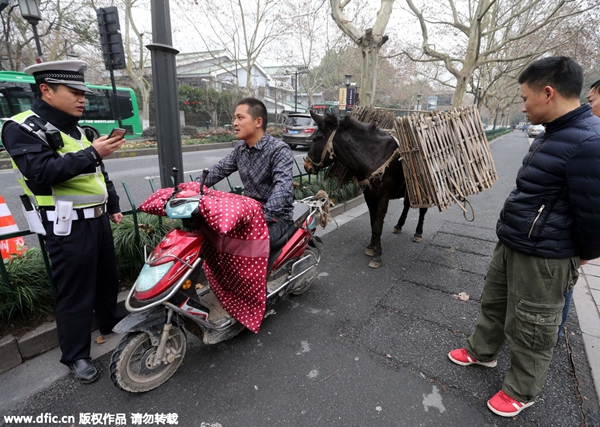 The owner of the mule controls the escaped mule. [Photo/IC]
In our next story, a boss uses WeChat hongbaos to check whether employees are paying attention at work.