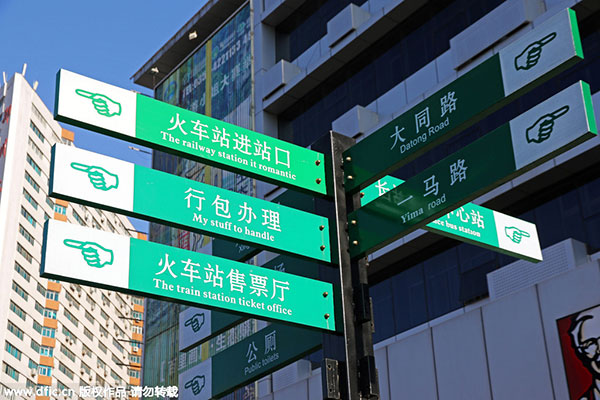 Badly translated road signs are pictured near Zhengzhou Railway Station in Zhengzhou, Henan province, Dec 25, 2015. [Photo/IC]
Poorly translated road signs pulled off the street
Nearly half of the road signs near Zhengzhou Railway Station have been recently withdrawn for translation mistakes in Zhengzhou, capital city of Central China's Henan province, Chinanews.com reported.
Over 100 road signs have been erected around the station; their original purpose was to improve the city's international recognization.
However, translation mistakes were discovered; some didn't make any sense at all.
For example, the entrance of the railway station was translated as "The Railway Station it romantic".
One landmark, Erqi Memorial Towers, situated in the center of the city and built in memory of the Workers' Union of the Beijing-Hankou Railway strike that started in Zhengzhou in 1923, was literally translated as "Two seven towers".
The Railway Administrative Committee said they have pulled all the signs and will put up new ones in January. Language experts have been invited to make a final check before the signs leave the factory.