In today's trending, a young woman "ages" 40 years to taste life as a senior citizen, a new water town in East China is compared to Venice and badly translated road signs in Zhengzhou get pulled.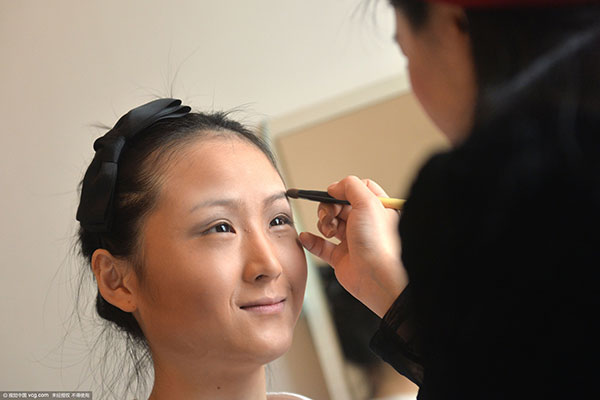 Feng Jing, 29, undergoes a makeup transformation to make her look as if she is 70 years old, in Shenzhen, South China's Guangdong province, Dec 27, 2015. [Photo/CFP]
Woman experiences life 40 years later
A curious post-80s woman, wondering what the life is like for elderly people, got to participate in a one-day experience as a senior with the help of make-up.
Feng Jing, 29 years old, walks to a senior center and spends one day there on Sunday. She tried everything that an elderly person does without being discovered by putting on makeup.
Feng said she wanted to see what she would look like after 40 years and gain an insight into the lives of elderly people.
After one day's experience, she said the biggest difference between the old and the young is the feeling of loneliness.
"One would feel lonely when he lives with the same routine day after day," Feng said.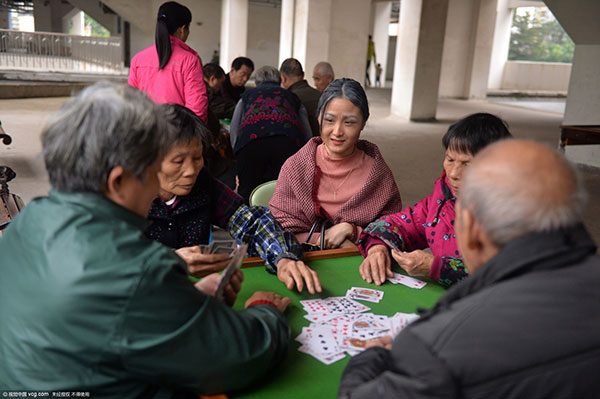 Feng Jing (Center) looks on as other elder people play cards in Shenzhen, Guangdong Province, Dec 27, 2015. [Photo/CFP]
In our next story, a beautiful new water town in East China draws comparisons to Venice.