In today's trending, an unusually fat pig is allowed to live, university library has glass floor, and a middle school student's grain map of China wins an award.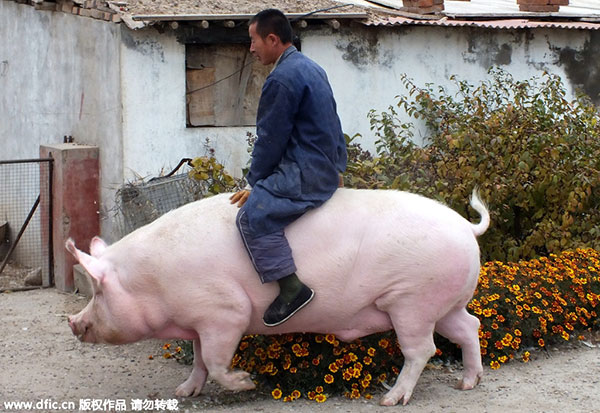 Zhang rides the over-grown swine. [Photo/IC]
Swine escapes slaughter for growing incredibly fat
A sow weighing 600 kg grew so much larger than expected that it was kept for its owner to ride on instead of being slaughtered, reported dfic.cn on Wednesday. It's rare for a swine to reach over 500 kg.
Zhang Xianping, a farmer in Wanquan county, Zhangjiakou, Hebei province, raised a pig to about 600 kg. The swine is two years old, 1 meter tall and 1.5 meters long. It is the first swine that weighs over 500 kg in the village, so Zhang didn't send it to the slaughter house but walked it around or rode it in his leisure time.
Zhang said he didn't feed it with any special fodder.
In our next story, an incredible view through a glass floor in a college library.