In today's trending, when activists rescue a truck full of dogs, driver stabs herself, a street cleaner runs 225 km in a day, lightning strikes mother, and burglars' "victory photos" give them away.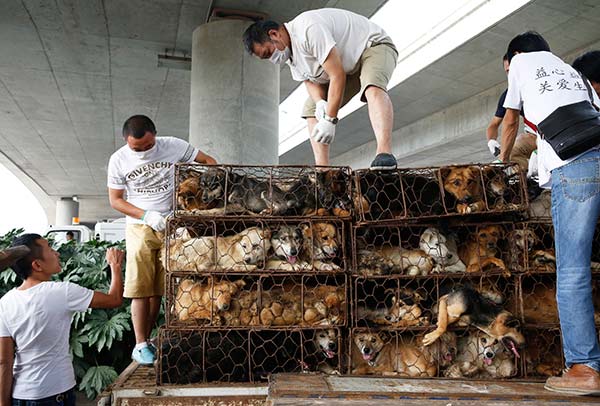 Volunteers from the Xi'an Small Animal Protection Association check caged dogs on a truck after they stopped the vehicle at a highway tollgate with police help in Xi'an, Shaanxi province, Sept 7, 2015. [Photo by Chen Tuanjie/For China Daily]
Activists rescue dogs in truck, driver stabs herself
A truck carrying more than 200 dogs was intercepted by a group of volunteers of the Small Animal Protection Association at a toll gate of an expressway in Xi'an, Shaanxi province on Monday, resulting in a 9 hour standoff and one of the drivers stabbing herself, Huangshang Daily reported.
More than 60 animal activists came to the site and made the two truck drivers unload the dogs since most of the dogs were sick or injured and they "wanted to rescue all the dogs from being butchered."
An animal quarantine station found the truck of dogs lacked a quarantine certificate and certificates for transportation of the animals.
The truck drivers said they didn't own the dogs and were only responsible for delivery. The standoff lasted about nine hours since the truck drivers refused to hand over the dogs.
"We have to pay all the money the dogs are worth to the boss if we let you have them," said the drivers.
One of the drivers took out a dagger to stab herself in the thigh, saying, "I will die if you take away the dogs."
The chaos resulted in the injured driver being sent to the hospital and the dogs being given to the association, which will keep them at its facility until they find adoptive homes.