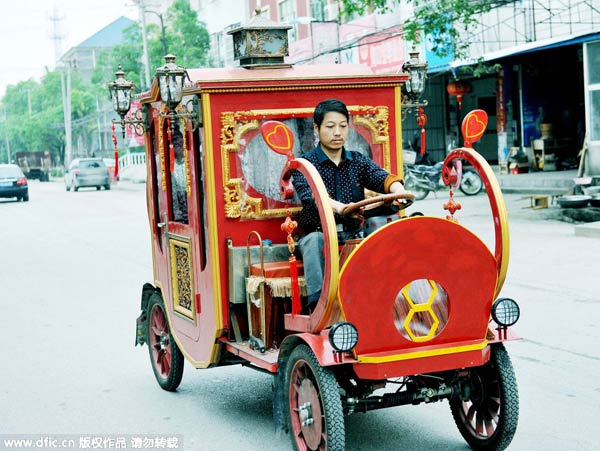 Cheng Yongyi drives his homemade vintage car on road, May 4, 2015. [Photo/IC]
Farmer makes wooden vintage car
Chinese farmers have impressed our readers by making their own sports cars and submarines, and now comes yet another amazing creation – a wooden vintage car.
Cheng Yongyi, a 43-year-old farmer of Jiangxi province who only completed middle school, spent six months making a wooden vintage car, dfic.cn reported on Tuesday. The car is 4 meters long, 2 meters high and 1.6 meters wide and can reach a maximum speed of 40 km per hour. It cost him more than 30,000 yuan ($4833).
Apart from the power unit, tires and the main framework, the whole car is made of wood.
Cheng said he got the idea for making his own car after doing ten years of electric soldering.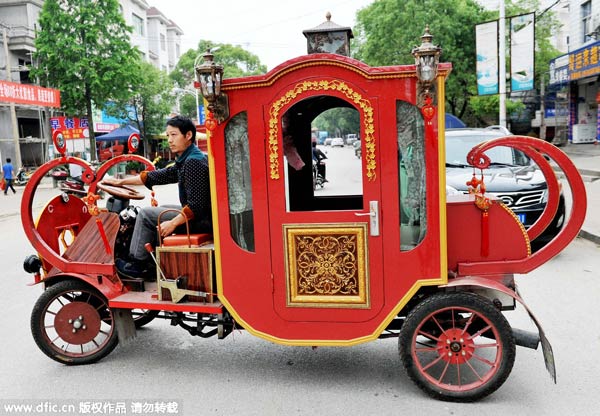 Cheng Yongyi drives his homemade vintage car on road, May 4, 2015. [Photo/IC]
Ever spot a handsome policeman? One Weibo user went online to find out if he was single, in our final story of the day.