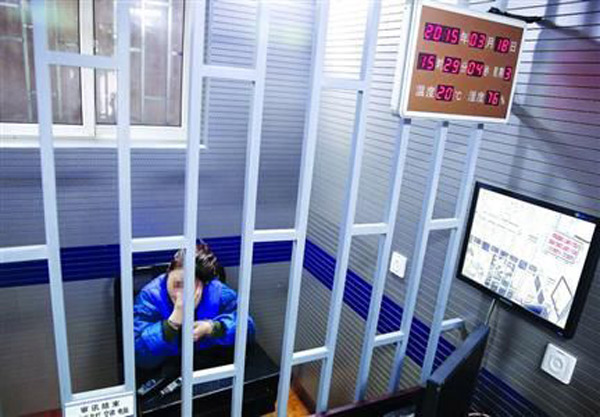 Zhou is pictured in a detention house in Changning District, Shanghai, Mar 18, 2015.[Photo/newspaper.jfdaily.com]
Woman caught returning Taobao fakes to JD.com
Police in Shanghai have detained a young woman for defrauding an online shopping website in a scam that cheated it of about 197,000 yuan (US$31,000).
Since May 2013, the 25-year-old suspect, surnamed Zhou, purchased 20 branded items including bags, purses and boots from jd.com, which allows customers unhappy with the products to return them within seven days for a refund.
Zhou took advantage of the company's policy, stuffing the package with fake replicas and then returning them.
She told the police she bought the fake ones from taobao.com, another large online shopping platform in China.
The most expensive item that Zhou bought was a leather bag worth 24,900 yuan. The fake that she repackaged and sent back to jd.com cost about 400 yuan, police said.
In our final story, man uses homemade ambulance to get wife to hospital for dialysis.