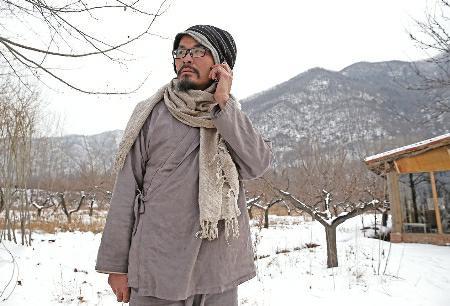 Liu stands outside his shed in Zhongnan Mountain, Shaanxi province. [Photo from hsb.hsw.cn]
Millionaire retreats to mountain to meditate
Two years ago, Liu Jingchong, a native from Guangdong province, decided to give up millions of annual income and an extravagant urban lifestyle to live a minimalist life on a mountain, focusing on his inner life.
Spending most of his days meditating, reading, and practicing calligraphy, he now dwells in a straw-covered shed in Zhongnan Mountain, Northwest China's Shaanxi province, accompanied by plants and animals.
Liu used to enjoy an annual income of over one million yuan (US$160,000) by running his own business. He said he only worked for half a year and spent the other half a year resting. In 2013, he found it hard to live in cities after his first visit to Zhongnan Mountain and returned to the mountain in September 2013 to meditate.
Liu only buys rice, flour and oil outside the mountain and grows vegetables for himself. "I hardly find any need to spend money now," he said.
In our next story: should Chinese online game characters abide by the one-child policy?