Shaolin Temple looking for media expert, driver takes tip from spy dramas to escape, bad review leads to body bag.
Media talent wanted by Shaolin Temple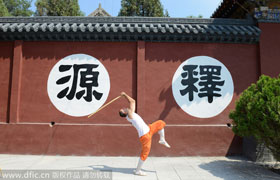 ShaolinTemple in Songshan Mountain of Central China's Henan province recently posted a recruitment ad to attract applicants who are able to introduce the temple to the outside world using modern media tools.
Potential employees must accept Buddhist ideas and Zen thought, and those who hop from one job to another will not be hired, according to the ad. There is no bar on kung fu capability, marital status, dietary habit and gender of applicants.
No less than one fourth of the nearly 300 resumes received by the temple are from those with overseas education background.
Related: Shaolin Temple to host world martial arts competition

Frustrated man cuts off his member
A middle-aged man in Hong Kong who suffered setbacks in both marriage and business severed his penis while shouting "I suck!", reported Wen Wei Po.
Police officers rushed to the man's house after receiving a call from his son. Although the man refused to receive help, he finally fainted and was sent to the hospital along with the severed penis.
Related: Drivers frustrated with speed limit on bridges

Buffalos take over expressway after crash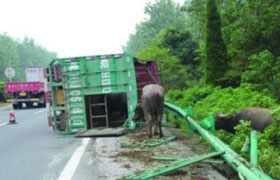 A truck loaded with buffalos turned over on an expressway from Hefei, Anhui province, to Nanjing, Jiangsu province, sparking chaos on the road, reported anhuinews.com on Thursday.
The animals in panic ran wild on the expressway after the crash. Police had to block the road and round them up. With the help of others on the expressway, the road was reopened later.
Related: Pigs killed by thunderbolt

Spy skills help man on the run
A man used skills he learnt in spy dramas to escape paying compensation, reported Chengdu.com.
The man hit a woman some days ago while riding a battery-powered bicycle in Chengdu, Sichuan province, and left her in hospital as he was afraid of the huge compensation claim. The man, a spy drama enthusiast who knows how to avoid surveillance cameras, chose a roundabout route to go home, and he contacted a reporter through a telephone card registered in another city in order to compensate the injured.
Related: Woman fired for having same online identity with TV mistress

Writer of negative review receives body bag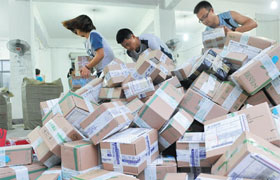 A man who wrote a negative review about the quality of the shoes he bought on the e-commerce website Taobao received a body bag from the shoe seller, who threatened to take revenge, Shanghai Morning Post reported on Wednesday.
The customer, surnamed Xue, received more than 80 crank calls, as well as a refrigerator that he had to pay for on its arrival. Taobao said an investigation showed that all those actions had been carried out by the seller, and it will block the online shop from conducting further business on its platform.