Man's best friends earn him money; stolen tree still blooming after 921 years and plastic surgery causes more trouble than it's worth.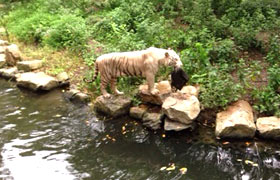 Tiger takes a fancy to handbag

A woman who accidentally dropped her handbag into water in a tiger zone at Shanghai Zoo saw her bag carried away by a tiger after the big cat swam into the river and took it, news.sina.com.cn reported. The tourist had been using her hand and bag to attract the animal's attention.

Thrifty, clever canines
Two dogs, trained to pick up plastic bottles by their owner, collected about 10,000 in a year, which were sold for 1,000 yuan ($162) to waste recyclers, Chongqing Evening News reported.
The dogs' owner, surnamed Gan, said the animals, German shepherds, also helped lift shopping bags and move a bench for someone visiting the house to sit on.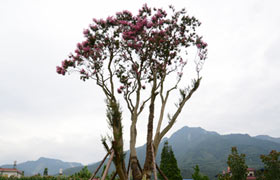 Ancient tree blooms again
A 921-year-old lagerstroemia indica (crepe myrtle) in Sichuan province has blossomed with villagers delighted to see the tree had survived after being stolen and transplanted multiple times, Sichuan-based news network scnews.newssc.org reported. The tree, 10.2 meters high, was taken last year and sold for 880,000 yuan by thieves.

Beauty treatment causes problems
A girl in Chongqing suffered multiple troubles after having a double-fold eyelid operation. Appearing different from her ID card saw her refused bank service, airport security checks and recertification tests, Chongqing Evening News reported. She was thought to be a ticket scalper when buying a train ticket as sellers suspected she was using someone else's ID card.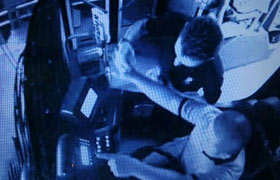 Impatient foreigner forces sudden halt
A foreigner grabbed the steering wheel of a bus in Chengdu when the driver refused to let him off between stops, Chengdu Commercial Daily reported. The man, who got on the bus at about 9 pm, asked the driver to stop because he had wanted to get off at the previous stop. The driver told him he would have to wait until the next one.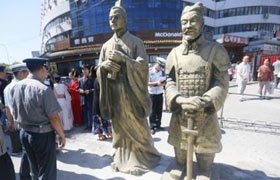 Terracotta warriors cause trouble
Four people who erected two Terracotta Warrior replicas on a Beijing street and shouted loudly while wearing ancient Chinese costumes, during a commercial promotion, were stopped by urban patrol officers for causing traffic congestion, and the 2-meter tall replicas were removed, China Youth Daily reported.