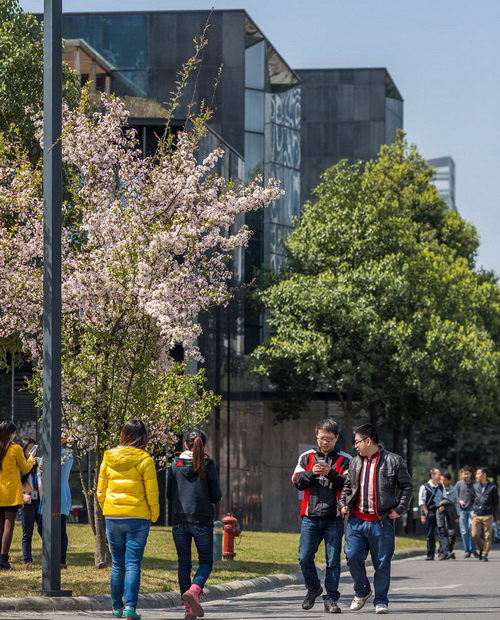 Young entrepreneurs stroll through Chengdu Tianfu Software Park.
Establishment of the China (Sichuan) Pilot Free Trade Zone will bring both tangible and intangible benefits for Chengdu's businesses and residents.
"The development of Chengdu Tianfu New Area will create rarely seen business opportunities to support our growth," said Liu Feng, assistant general manager of the Tianfu International Fund Town. The town was established by the Chengdu government in 2016 to support development of the local financial industry.
Liu said the town will develop four core functions, including wealth management and business incubation, to provide premium capital services to the FTZ.
Chengdu Tianfu New Area has set a goal of strongly supporting the development of emerging industries, including basic science, bioscience, information security, smart manufacturing, design and a modern financial industry to support FTZ construction. The Chengdu Science City, a technology hub in Tianfu New Area, will play a crucial role in supporting business innovation.
Local residents believe the FTZ can help to create job opportunities and enhance living standards.
"The establishment of the FTZ will attract more businesses to Tianfu New Area, especially to Chengdu Science City. It will help to create more jobs," said Chen Hanxiao, a student at the University of Electronic Science and Technology, who plans to stay in Chengdu after graduation.
"We also expect to enjoy more cheaper imported products and better aftersales services," Chen added.
Liu Hongjian, a resident of Tianfu New Area, said: "Apart from those tangible benefits such as cheaper products and premium services, I believe there will be many intangible benefits which will bring changes to people's lives."
Liu said there will be better infrastructure facilities in Tianfu New Area and these will help to enhance livelihoods.
"The FTZ will push economic and social development in surrounding areas," he said. "I have a very positive attitude toward the FTZ."
Lin Songming, a startup operator in Chengdu Science City in the Tianfu New Area, was also positive about the effects of the FTZ.
"Premium office spaces and supporting facilities in Chengdu Science City impressed many startups, including me," he said. "I think Tianfu New Area will be a business accelerator. I can see a bright future here."