Experts warn of potential concerns about genetic privacy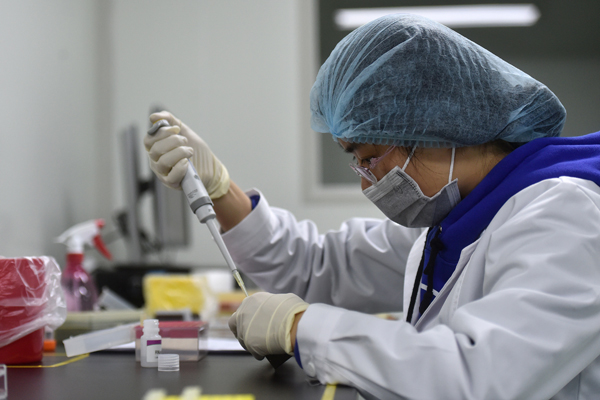 A scientist conducts tests for 1GENE, a genetic testing company in Hangzhou, Zhejiang province. [Photo/Xinhua]
Increasingly strict government controls on genetic information have resulted in longer, slower registration procedures for new and developing drugs. However, the procedures could pose a threat to the people's privacy, according to an expert at the Chinese Academy of Sciences.
In an exclusive interview with China Daily, Chen Kaixian, who is also a member of the National Committee of the Chinese People's Political Consultative Conference, said rather than providing extra safeguards, the precautions are actually making genetic information less secure. He urged greater streamlining of the procedures to ease the bottleneck and shorten the registration process.
In late 2015, the Ministry of Science and Technology issued a statement outlining extra application and approval procedures for clinical drug trials conducted in collaboration with foreign pharmaceutical companies or by research institutions funded by money from overseas. The same strictures apply if projects are overseen by foreign nationals.
The measures require tests to be conducted on a greater number of people, which has resulted in a substantial rise in the amount of personal information being collected and stored.
According to Chen, the stricter procedures have had a negative effect on many potential new treatments in China.
"Many companies have reported six to nine months extra waiting time, which has seriously slowed down the approval process for badly needed new drugs," he said. "Given the concerns related to privacy and security, it's entirely reasonable for national governments to collect and store people's genetic information. However, that should be balanced with the research and development of new drugs."
Although he is in favor of prohibitions on the disclosure of genetic information, especially overseas, Chen said the measures should be amended: "The current procedures can still be improved to make them more efficient."
In contrast, Zhou Qi, a researcher at the Chinese Academy of Sciences' Institute of Animal Research, urged even stricter management and regulation. "Genetic information cannot be replicated, and is crucial to life-science research and the development of drugs," he said.
Scandals
In recent years, there have been a number of scandals involving illegal cross-border projects in the field, largely as a result of the increasing availability, affordability and accuracy of genetic testing. However, these activities are largely underground, so they are difficult to detect, according to Zhou.
Fortunately, the government has recognized the importance of protecting genetic information and has constantly strengthened management of the collection and exportation of human body samples that can be used for genetic testing, particularly when the process involves overseas nationals, he said.