Sea turtle population surges on islands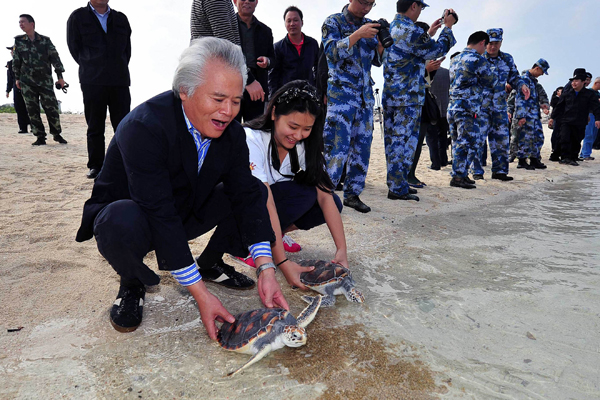 Sea turtles are released on Yongxing Island in Sansha, Hainan province, at an event to promote environmental protection. Guo Cheng / Xinhua
Ganquan Island used to be a haven for seafarers sailing along the ancient maritime Silk Road as it is one of two islands in the South China Sea that has underground fresh water.
The island has been inhabited by Chinese fishermen for hundreds of years, and a dozen are still living there, but they are outnumbered by another resident: green sea turtles.
Located in the west of China's Xisha archipelago, Ganquan, which literally means "sweet spring", is an ideal location for sea turtles due to its fine-sand beach and the large mass of coral reef surrounding the island.
In a pool not far from the beach, hundreds of turtles vie for small fish thrown to them by Li Yanfen, 33, a worker with the local sea turtle preservation station, run by the island's community.
"We have 800 turtles to take care of," Li said.
Li was a fisherman in the port town of Tanmen in China's southernmost province of Hainan, more than 300 kilometers from Xisha. He came to Ganquan as a turtle breeder when the preservation station was established in 2013.
"The breeding season for sea turtles runs from April to October. We patrol the beach daily looking for turtle nests that are too close to the sea. If we find any, we dig out the eggs and take them to the station," Li said. "If not, high tides will submerge the nests and ruin the eggs."
At the station, the eggs are placed in buckets full of sand, and hatch after 45 to 60 days.
"In their natural environment, the hatching rate of the turtle eggs is about 10 percent, but the rate can be as high as 80 percent at the station," Li said.
Living on fish, the captive turtles can grow to between 0.5 and 0.8 kilograms in six months.
"Their shells will be hard enough by that time to guard them against their predators such as birds, crabs and fish. So when we release them into the sea, their survival rates are much higher," he said.