China Daily website is inviting you to share Chengdu Story with us! and here are some points that we hope will help contributors: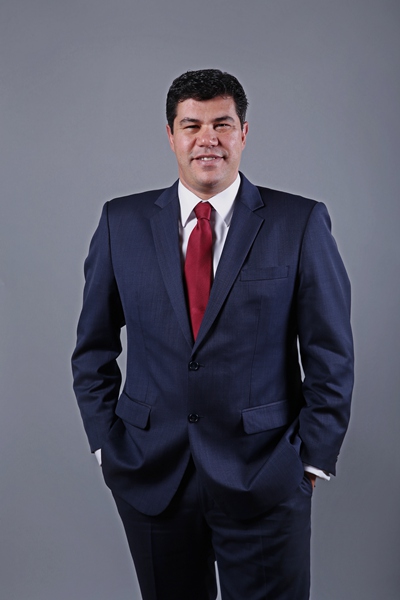 My name is Eduardo Bressane. As an hotelier, I have been worked in the hospitality industry for over 20 years, and The Ritz-Carlton, Chengdu is the first property that I am working with The Ritz-Carlton. Thanks to the beautiful opportunity, it brought me and my family to Chengdu, a city which we like instantly once we arrived. The wide and clean street, the warm, friendly, welcoming people who live a very laid-back lifestyle and etc., all remind me so much of my own hometown back in Brazil.
I always travel the world with my family, and sometimes relocating to a strange place is a big challenge for them. However this time to Chengdu, they seem get used to here in Chengdu they both enjoy staying and studying here. I think here Chengdu not only witnesses a whole new chapter in my career but also a lot of quality and meaningful family time, I and my family's unique #RCMemories.
I started my career in the Food & Beverage industry, and I have since become a devoted food and wine lover. Talking about my favorite restaurant in town, I would say it is my Executive Chef's house. Chef Conrado is an extremely creative and thoughtful culinary expert. He is kind enough to host my family for dinner from time to time, and offers distinct dishes that are customized based on our preferences.
The location of Chengdu is very unique. It is located in the center of southeast China, and is also a booming hub of commerce and tourism. There are many direct flights to major cities both domestic and international, and on weekends, it is also very convenient to drive to surrounding cities or rural villages for a weekend escape. Just last month, my family and I went to San Sheng Xiang for a bicycle ride. The photos we took of the yellow cole flowers made all my friends jealous.
Chengdu is a very modern city. Moving here required only a little adjustment in my lifestyle. There are shopping malls and Western restaurants and bars everywhere. The movie theater is also very nice, and I don't have to miss a single movie. This takes up a lot of my recreation time.
I appreciate my life in Chengdu. As a hotelier, what I like the most about the city is that all the Chengdu ladies and gentlemen are very warm and welcoming. They all have a sincere smile. They are very professional and genuine when it comes to serving the guests, and their service comes very naturally. This is a very important trait a hotelier should possess. This is actually the secret of the Ritz-Carlton Gold Standard. Nowadays, we see a rapid growth in Chengdu's hotel industry. Many people ask me if I feel threatened. Honestly, I should not be. Instead, I should focus more on offering guests quality service and maintaining sustainable growth in this competitive industry.
Chengdu is a city that is full of opportunities, and it is also very beautiful. I would definitely invite my friends and family to come and have a look.
About The Ritz-Carlton, Chengdu
Overlooking the city's central Tianfu Square, The Ritz-Carlton, Chengdu offers travelers an ideal base from which to explore Chengdu's cultural and culinary wealth, as well as the vast, emerging potential of Western China's dynamic economies. With guestrooms from the 28th to the 41st floor, this 353-room luxury hotel features unmatched views of downtown Chengdu paired with the comfort, privacy and personalized service offered by Ritz-Carlton hotels the world over. Guestrooms include walk-in closets as well as five-fixture bathrooms featuring paired sinks, a bathtub, an enclosed shower and a TOTO intelligent toilet. The 113 Ritz-Carlton Club Level rooms and 55 suites feature 800-thread-count linens, personal butler service and a host of thoughtful accoutrements.
The luxury Chengdu hotel offers memorable and diverse dining opportunities at each of its four restaurants and bars. Its Li Xuan Chinese Restaurant specializes in Cantonese and local Sichuanese creations; SPICES, an all-day dining restaurant, features classics of the Italian, Japanese, Southeast Asian and Chinese cuisines prepared at live cooking stations; The Lobby Lounge hosts a traditional English Afternoon Tea in addition to a sophisticated menu of classic cocktails; and the stylish FLAIR lounge serves fresh sushi and Asian-inspired tapas indoors and on an outdoor patio to the accompaniment of live DJ music. Meeting spaces include a Grand Ballroom, Junior Ballroom and seven additional meeting rooms totaling 1,700 square meters of function space. Guests will find relaxation and wellness on the 23rd floor with the full-floor luxury Ritz-Carlton Spa, an indoor swimming pool with underwater music and Fitness Center with state-of-the-art Technogym equipment.
About The Ritz-Carlton Hotel Company, LLC
The Ritz-Carlton Hotel Company, L.L.C., of Chevy Chase, Md., currently operates 89 hotels in the Americas, Europe, Asia, the Middle East, Africa, and the Caribbean. More than 40 hotel and residential projects are under development around the globe. For more information, or reservations, visit the company web site at www.ritzcarlton.com or www.ritzcarlton.cn. The Ritz-Carlton Hotel Company, L.L.C. is a wholly-owned subsidiary of Marriott International, Inc. (NASDAQ).
The author is Hotel Manager of The Ritz-Carlton, Chengdu.
The opinions expressed do not represent the views of the China Daily website.
[Please click here to read more My Chengdu Story. You are welcome to share your Chengdu stories with China Daily website readers. Please send your story to chengdu2016@chinadaily.com.cn]