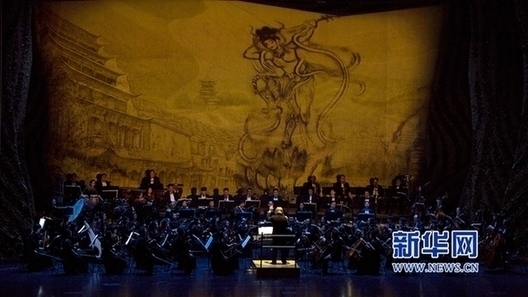 Sanding painting matches the symphony chorus Dunhuang. [Photo/xinhuanet.com]
The original symphony chorus Dunhuang was performed at Gansu Grand Theatre, in Lanzhou city, Gansu province on Jan 7 to show the culture and history of Dunhuang city.
The performance consisted of four sections in 12 movements and integrated the Central Asian music style with Chinese traditional folk music.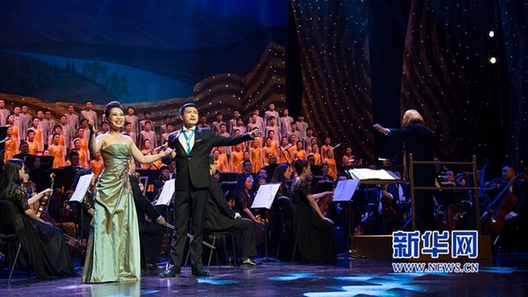 Performers of chorus Dunhuang sing on stage. [Photo/xinhuanet.com]
Dunhuang tells of the historical role of its namesake city in facilitating cultural and trade exchanges between China and Asian countries arising from the city's location along the ancient Silk Road, a trade route linking North China, Central Asia and Europe.
The concert manifests Gansu's expectation of developing friendly and cooperative relationships with countries along the Silk Road, according to its director.
Sand painting was also performed during the concert to display Dunhuang's cultural features.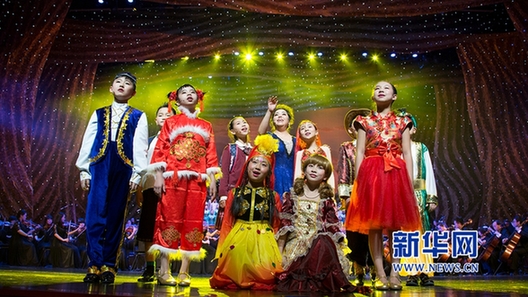 Performers on stage. [Photo/xinhuanet.com]
Lian Ji, director of the Gansu Provincial Publicity Department, remarked after watching the rehearsal that the production of Dunhuang coincided with the national Belt and Road Initiative, which refers to the Silk Road Economic Belt and the 21st Century Maritime Silk Road, and it embodies Gansu's cultural characters.
"We should work hard to make Dunhuang a cultural brand of Gansu," said Lian Ji.
The Gansu Provincial Publicity Department, Culture Department and Literature and Art Association jointly organized the concert.
Edited by Peter Nordlinger