The cultural tour activity "2015 China Media Tour" comes to East China's Jiangsu province on Oct 19. Representatives of more than 30 media organizations from all over the country start their five-day tour to explore the beauty of Jiangu countryside.
The media will have the chance to see the development of rural tourism in Jiangsu province closely by visiting several villages in Nanjing, Changzhou, Wuxi and Suzhou.
Rural tourism has flourished and become a new trend in China in recent years. Fresh air and tranquil pastoral scenery make villages an attractive tourist destination. Jiangsu's rural tourism, in particular, ranks among the best in the country, thanks to its well-developed economy, rich traditional historic and cultural resources and spectacular countryside locations.
The media tour is initiated by the Jiangsu Tourism Bureau and supported by jschina.com.cn. It aims to showcase the charm of Jiangsu villages and help boost local rural tourism.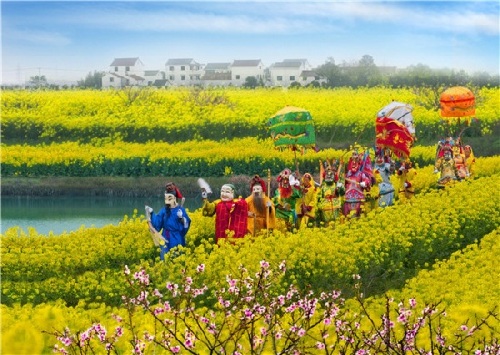 Gaochun in Nanjing is the first stop in 2015 China Media Tour organized to promote countryside and rural tourism in Jiangsu province. [Photo provided to chinadaily.com.cn]
Edited by Mevlut Katik