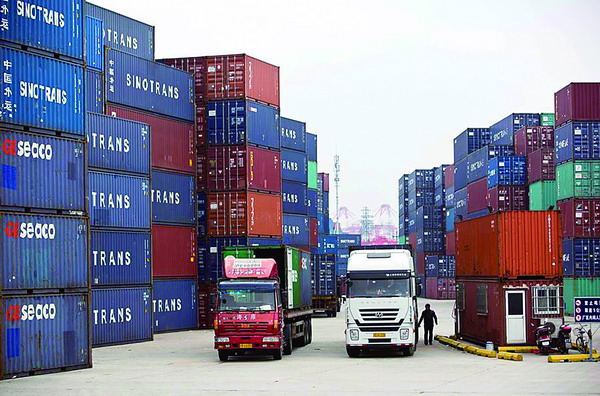 Measures the Shanghai Customs have taken ensure the seamless connection of coastal cargo with highways and railways. Trucks carrying containers are driving out of a port of the Shanghai Free Trade Zone. PHOTO BY REUTERS
The Customs in the provinces along the Yangtze River handled 210 million tons of cargo in the first half of this year, accounting for 94 percent of the total imports and exports passing through the Shanghai port.
"This should be owed to the measures the Shanghai Customs have taken to promote the smooth flow of bonded logistics," said an official with the Shanghai Customs.
The measures ensure the seamless connection of coastal cargo with highways and railways so that enterprises can import parts and export products in a timely fashion, said the official.
Take the Molex Connector (Chengdu) Co Ltd as an example, which produces electronic components for the global market with raw materials imported through the Shanghai Waigaoqiao Bonded Area. It finds that costs will be high if it transports raw materials to Chengdu by highway, so it has resort to the Shanghai Customs for railway transport.
After a discussion with the railways authorities, the Customs solved the problem and gave a green light to Molex to transport its imported raw materials by railway.
By using the new transport model, the company succeeded in transporting its first batch of goods from Shanghai to its warehouses in the Chengdu Comprehensive Bonded Area.
"We can save more than 4 million yuan a year by using the new model," said a company manager.
"The new model now operates smoothly," the Customs official said, adding that with the new transport model, enterprises along the Yangtze River can get bonded goods from the Shanghai Waigaoqiao Bonded Area to wherever highways and railways go.
China is now carrying out a strategy to relocate its industries along coastal areas to the central and western regions. If enterprises use this model, they can save annual transport costs of more than 100 million yuan or even several billions, the official said.
The Shanghai Customs has established a regional Customs cooperation mechanism with its provincial counterparts, handling imported and exported goods valued at $18.2 billion between January and June of this year, up 39.5 percent over the same period last year, of which cities along the Yangtze River shared $11.6 billion.