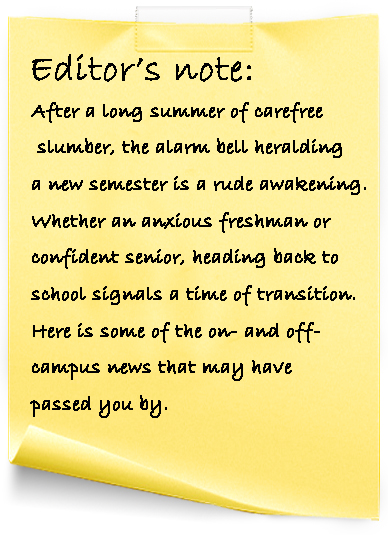 People tend to dream big at the start but soon those dreams fade, especially those of young impulsive students. A resolution was reposted countless times on Weibo, China's answer to Twitter.
It reads: "In this new semester, I make my promise: no stay up, go to bed early, read more, workout more, learn English, and save money. I wish I could be addicted to study!" They have our blessing.

As the new semester starts some students are already counting down the days. By deducting all the holidays and weekends from Sept to Dec, there are 21 days in Sept, 19 in Oct, 21 in Nov and 19 in Dec, 80 days in total.
A school day of 7 hours multiplied by those 80 days comes to 560 hours, which is actually only 23 days if divided by 24 hours, so 23 days to go until New Year!  Actually...they won't enjoy their winter vacation until February next year as they encounter the  longest semester in the past 50 years.

Traditional Han-style clothing, a statue of Confucius and Chinese ancient classics...
If you think this is a performance you may find in scenic spots, think again. It's the welcome ceremony for 450 newcomers at Gaoxinbocai School in Changsha, Hunan province. According to the Chansha Evening News, after paying tribute to great thinker and educator Confucius, each student received books, pens and letters of advice and encouragement from teachers who then patted lightly on the kids' heads, showing acceptance of the students.  

Pupils at a primary school in Shanghai found it easier than most to settle back into routine when meeting their guest PE teacher. The 50 pupils at Pinghe Bilingual School were welcomed by the fastest man on earth, Usain Bolt.
On a commercial visit to China, the multi-World, Olympic and Commonwealth champion demonstrated the correct running posture and shared stories with his little fans. The Jamaican sprinter also reminded students of the importance of study, according to the Oriental Morning Post.

Many pregnant women in Shenzhen, Guangdong province, underwent cesarean sections to give birth before their due date as they wanted to enable their newborns to enroll for school one year earlier, according to Guangzhou Daily.
With Sept 1 the start of autumn term for primary schools it is also the cutoff date for children born before or on Aug 31 to start primary school at 7 years of age. According to obstetricians in the city, one baby was born nearly every hour in the last three days of August, and more than 60 percent were delivered through cesarean sections.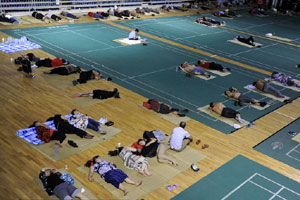 Shenyang Aerospace University in Northeast China's Liaoning province converted its stadium as a place to rest for parents of children starting their first year in college.
About 400 "beds" were placed on the floor of the stadium.

Tired of parents' endless questions about school? Now you can take them to school and let them think in your seats.
Three hundred parents turned students at Chengdu Caotang Primary School to give them firsthand knowledge of the school and an insight into their children's behavior, according to Chinanews.com.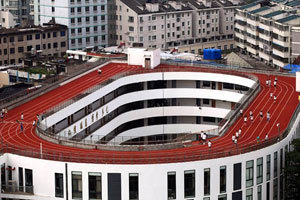 Due to a lack of construction land on campus, No 2 Elementary School in the Chicheng district of Tiantai, Zhejiang province has built a running track on its roof, a first for the country.
The track meets the needs of 1,600 students for physical education, the head of the school said. The design is displayed in an international exhibition with designer Ruan Hao saying: "Inspiration comes from frustration."

Parents of twins may consider it a blessing their kids have built-in best friends but it could be anything but for teachers at a school in Jiangsu province: there are five sets of identical twins among this year's primary intake.
Yuanyuan and Congcong are identical brothers. Their parents say Yuanyuan is outgoing while the slightly younger Congcong is shy. Teachers added their own observations: Yuanyuan is the one who puts his pencil box straight on the table and Congcong likes it at an angle. Or should that be the other way around?

Xiaoli, a freshman from Xinjiang, found his roommates in Zhejiang University had something in common–they all stay up late, reported Xinhua.
It is thanks to a new school policy taking living habits of newly-enrolled students into consideration in dormitory allocation. Under the arrangement, those who sleep late have been put together, a move that's earned the praise of students.

Beijing is reportedly no longer the most congested city in China, but it may be too early to celebrate: the city is about to get extremely tangled this month and the traffic commission has dubbed it "the most congested".
It is partly about Beijing's youngsters returning to school but with Mid-Autumn Festival, National Day and a general increase in people visiting friends and family ever more people will be on the streets, the Municipal Public Security Bureau said.