Premier Li vows to safeguard WWII victory with Russia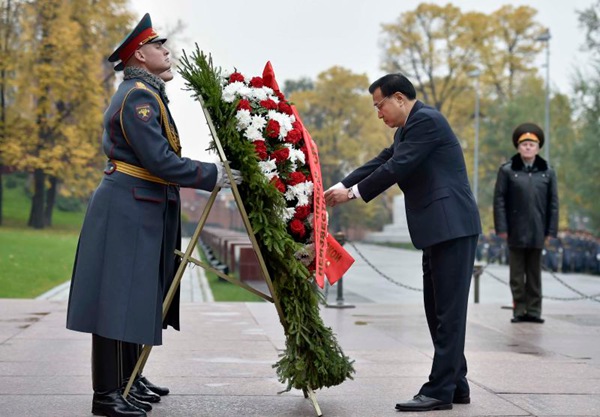 Premier Li Keqiang (R) lays a wreath at the Tomb of the Unknown Soldier in Moscow, which is dedicated to Russian soldiers killed in the anti-Fascist war, Oct 13, 2014. Li arrived in Moscow on Sunday afternoon for an official visit to Russia and he will attend the 19th China-Russia Prime Ministers' Regular Meeting. [Photo/Xinhua]
MOSCOW -- China is willing to join hands with Russia to safeguard the victory of the Allies in World War II and the post-war world order, visiting Chinese Premier Li Keqiang said here Monday.
Li made the remarks during a wreath laying ceremony at the Tomb of the Unknown Soldier outside the Kremlin.
Noting that the martyrs made great contribution to the peace of mankind, he said they are the pride not only of the Russian people but also of all around the world who love peace.
The Chinese people will not forget the history that the two countries fought side by side against aggression of fascists, he said, adding that China is ready to work with Russia to properly commemorate the 70th anniversary of the end of World War II and preserve the post-war world order.
Li arrived here Sunday for an official visit to Russia, his first since he took office last year. His ongoing three-nation trip has taken him to Germany and will conclude in Italy.