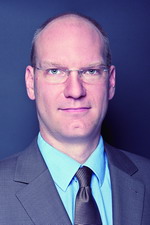 Sascha Schmel, Managing Director of the Materials Handling and Intralogistics Association within the VDMA (German Engineering Federation)
Materials handling and intralogistics are the keys for success in every step of the supply chain, from raw materials right on up to the finished products in customer's hands.
Today's production processes as well as good distribution and forwarding would be unthinkable without modern lifting and transportation equipment, conveyors, warehouse installations and all the latest innovative instruments for optimizing the flow of goods and information such as automatisation and data management.
The huge turnout by Chinese visitors and German exhibitors at the annual CeMAT ASIA since 2000 is testimony to this event's great drawing power.
The keen interest shown in materials handling and intralogistics solutions by the entire Chinese industry has made the show an overwhelming success. As CeMAT ASIA opens its gates for the fifteenth time, that success story is sure to continue.
CeMAT ASIA puts the spotlight on organizing, implementing and optimizing in house materials handling and intralogistics flows in turn. For all key industries such as production or distribution of goods, innovative intralogistics technologies have become essential with regards to reliability and availability. The aim is to have the right product at the right place at the right time.
On behalf of Germany's manufacturers of materials handling equipment and intralogistics, I very much look forward to seeing you at the Shanghai New International Expo Centre in October 2014!