How to dispose of Nov 11 shopping day waste?
Editor's note: Have you loosened your purse strings for the online shopping gala on Nov 11 to avail yourself of the many discounts on offer, but how do you deal with the package boxes? I think most of you "simply threw the boxes away" because you didn't know how to recycle them. According to the State Post Bureau, the number of express deliveries reached almost 100 million on Nov 11 last year, which means about 100 million boxes were needed to pack the parcels. How do you recycle these boxes? How do you dispose of Nov 11 shopping day waste? China Daily readers share their ideas.
Foreignchinese (UK)
I normally buy warm clothings. They can send a guy over wearing the jacket to me. No packings required. Of course, he has to buy an air ticket to travel 6000km to reach me.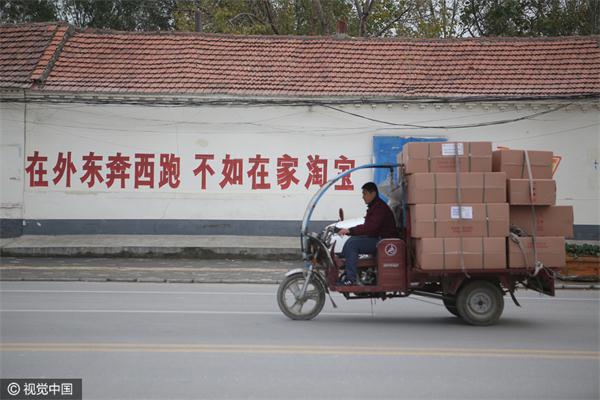 A delivery guy transports goods for the upcoming "Double Eleven" online shopping festival in Wantou village, Boxing county, Binzhou city, East China's Shandong province, on November 9, 2016. "Double Eleven", dubbed as the Chinese version of "Black Friday", falls on November 11 each year and was originally initiated by Taobao in 2009. It's later joined by other e-commerce conglomerates such as JD.com and developed into China's biggest annual online shopping spree. Wantou village is one of China's top 100 Taobao villages. [Photo/VCG]