November trade data positive signal for China's economy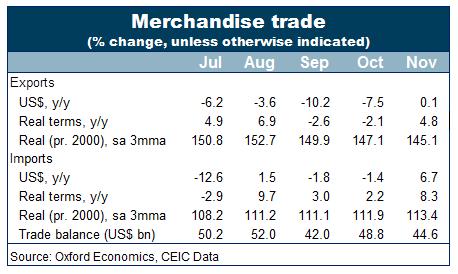 Goods exports recovered in November, providing relief on global demand, although we remain cautious on the outlook. Meanwhile, solid import growth reflects steady domestic demand momentum and higher commodity prices.
Goods exports recovered in November, restoring a trend towards stronger shipments that was interrupted in September to October. The pick-up provides some relief on global demand momentum, although China's exports have benefited from a trade-weighted depreciation of nearly 8 percent in the 12 months to end-November according to the PBOC's CFETS basket.
Exports inched up 0.1 percent year on year in US dollar terms last month. With prices still down on the year, this suggests that goods export volumes were up a healthy 4.8 percent yearly. Nonetheless, we remain cautious on the export outlook, given the still unconvincing global demand recovery and policy uncertainty in the US after Donald Trump's election win.
Goods imports rose 6.7 percent year on year in US dollar terms in November, following year on year declines in previous months. The recent rise in commodity prices means that the fall in overall import prices in US dollar terms has come down recently.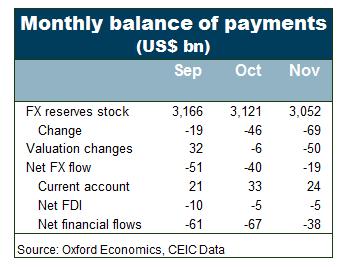 Nonetheless, real growth of goods exports also rose, to 8.3 percent year on year, in our estimate, suggesting domestic demand maintained solid momentum in November.
While increasing commodity prices should continue to support headline imports in US dollar terms, base effects for year on year comparisons will become more challenging towards the end of the year.
Moreover, the ongoing housing market correction is likely to put further downward pressures on domestic demand in the year ahead.
Foreign exchange reserves fell by another $70 billion in November. While this is in large part due to sizeable valuation effects, we expect the authorities to continue to make efforts to contain capital outflows in 2017.
The author is the Hong Kong-based head of Asia economics for Oxford Economics.
The opinions expressed here are those of the writer and don't represent views of China Daily website.