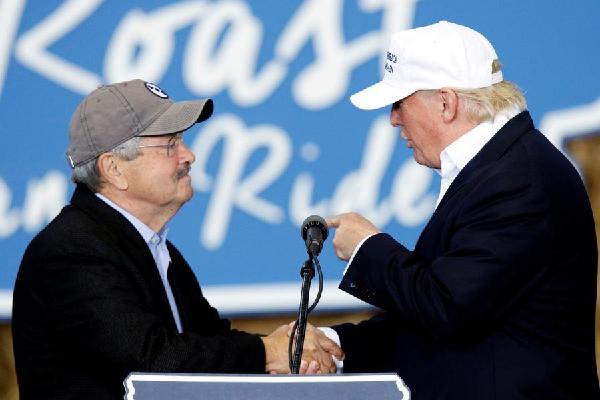 Republican presidential nominee Donald Trump meets Iowa Governor Terry Branstad as he speaks during Iowa Senator Joni Ernst's Roast and Ride at the Iowa State Fairgrounds in Des Moines August 27, 2016. [Provided to China Daily]
US President-elect Donald Trump announced on Wednesday his intent to nominate Iowa's longest-serving governor Terry Branstad to be his administration's ambassador to China, an appointment well received in both China and the United States.
Though speaking no Chinese, Branstad is well-known for his long-standing friendship with China and in particular with President Xi Jinping. The two first met in 1985 during Xi's first trip to the US with an agriculture delegation from North China's Hebei province. Branstad was in his first term as governor.
Branstad invited Xi, then China's vice-president, back to Iowa in 2012. Over the years, Branstad has led four trade missions to China and made China one of the top trade partners of Iowa, a major agriculture producer of soybeans, corn and pork.
I was in Iowa in early 2013 when Branstad spoke at events marking the 30th anniversary of the sistership tie between Iowa and Hebei, established in 1983 when Branstad was governor. I interviewed him on phone in September last year just days before Xi paid a state visit to the US and before Branstad went to Seattle to meet Xi. He talked at length about how he and those in Iowa who hosted Xi in 1985 were so proud to be referred to by Xi as "old friends".
There is no doubt that Trump's decision, though described by some as a political payback, is a goodwill gesture to China and reflects his willingness to maintain good US-China relations.
This is despite his blunder last week to take the phone call from Taiwan leader Tsai Ing-wen, thus seriously breaking decades of protocol between China and the US since they established diplomatic ties in 1979.
The Chinese government has shown much restraint in responding to Trump's erratic behavior in a hope to have a smooth start with the next US administration. After all, China-US relations is just too important to be ruined by one incident.
But Trump and some of his advisors need to understand that the Taiwan question is not something to be flirted with. The question hits a nerve of each and every Chinese on the mainland and it is one of the core interests for China. Trump also needs to listen to smarter advisors when he, through his Twitter last week, accused China of depreciating its currency, an allegation that is contrary to both facts and the assessment by US Treasury Department. What the Chinese government has been doing is just the opposite-preventing the yuan from depreciating. And this is great news for the US economy, according to people like Fred Bergsten, top currency expert of Peterson Institute for International Economics.
Despite the much talk among Americans about Trump's inconsistency and unpredictability, it is too early to tell anything about Trump given his inauguration is still more than 40 days away.
However, there is much hope among many Chinese that as a businessman, Trump will be more interested in pursuing practical win-win cooperation with China instead of indulging in geopolitical games.
The third round of the China-US High-Level Joint Dialogue on Cybercrime and Related Issues held this week in Washington is a good example how the two nations can turn a once contentious issue into new highlight of bilateral cooperation. Both stand to win when they join hands to fight cybercrime and maintain a hotline instead of shouting at each other through their news media outlets.
There are so many areas for potential win-win cooperation for the two nations. Sending Branstad to China is a positive sign that Trump wants to tap that potential.
The author is deputy editor of China Daily USA. chenweihua@chinadailyusa.com