China ushers in new FTAAP era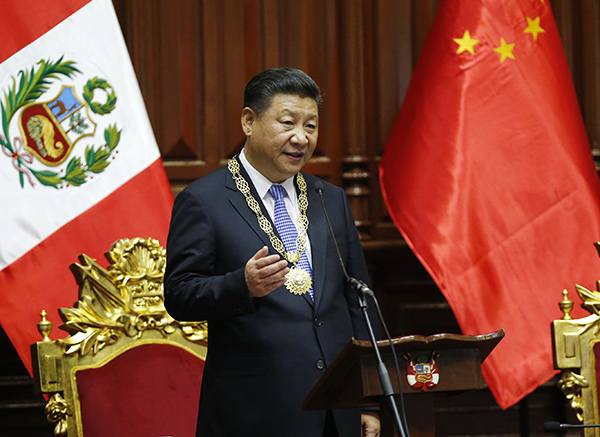 President Xi Jinping delivers a speech at Peru's congress.[Photo/Xinhua]
President Xi Jinping arrived in Lima, Peru, this past weekend, for the 24th APEC Economic Leaders' Meeting. His presence at the APEC 2016 Peru Summit marks a watershed, a historic milestone not just in terms of China's rise as a great power, but, of equal importance, as a palpable manifestation of its new status as Asia Pacific's preeminent leader in promoting globalization, trade liberalization, and regional economic integration.
The foremost topic on the APEC 2016 Peru Summit agenda was Asia Pacific regional economic integration through the creation of a new trading bloc: the Free Trade Area of Asia Pacific (FTAAP). The historic nature of the Peru Summit stems from the confluence of two major events: US President-Elect Donald Trump's campaign pronouncements that the cornerstone of America's pivot to Asia, the Trans Pacific Partnership (TPP), is unworthy of support and should be scrapped and, by stark contrast, Chinese President Xi Jinping's steadfast adherence to globalization, opposition to protectionism, and his proposal that Asia Pacific should move to the next level by adopting a larger model for Asia Pacific economic integration, namely, FTAAP.
In advance of the APEC Summit, China spearheaded a seminal FTAAP feasibility study, the Collective Strategic Study on Issues Related to the Realization of the FTAAP. The Collective Strategic Study was first authorized during the APEC Beijing Summit in 2014 at China's insistence - also known as the Beijing Roadmap. The Study formed the basis for APEC's ringing endorsement of FTAAP implementation at the Peru Summit over the weekend, in particular, the 2016 Leaders' Declaration and, even more definitively, the Lima Declaration on FTAAP (Annex A. to the Declaration.)
In the Lima FTAAP Declaration, the APEC leadership formally recognized FTAAP as a major instrument to realize APEC's goals of Asia Pacific regional economic integration. They also made clear that FTAAP would encompass all 21 APEC economies, including China, the United States, and Russia. Notwithstanding the considerable uncertainty surrounding TPP, APEC continues to maintain that there are essentially two "pathways to FTAAP" – TPP and the Regional Comprehensive Economic Partnership (RCEP), the latter being strongly supported by China.
The APEC leadership further announced that all APEC economies should immediately begin a stock-take on how regional trade and investment issues, including RTAs and FTAs as well as differential levels of economic development amongst APEC Members, should be tackled within the FTAAP framework. APEC is also likely to embark on concrete work programs to actualize FTAAP. Such work programs will include: i) improved market access and reciprocal tariff reductions; ii) elimination of NTMs (non-tariff measures); iii) liberalization of trade in services; iv) investment convergence and liberalization; and v) harmonized preferential rules of origin (ROOs).
Although TPP is mentioned as a FTAAP "pathway" in the Lima FTAAP Declaration, its future is in serious doubt in light of Trump's anti-trade campaign rhetoric. At present, the more viable "pathway" to achieve FTAAP is through RCEP, which has been championed by China and is characterized by so-called ASEAN Centrality (RCEP is also known as ASEAN +6). It is worth observing that, at present, seven of the 12 TPP countries are also RCEP participants - Brunei, Japan, Malaysia, Singapore, Vietnam, Australia, and New Zealand. Moreover, 12 of the 16 RCEP countries are APEC members. These overlapping memberships make it easier for RCEP to become the primary "pathway" for the formation of FTAAP.
There have been reports circulating in Lima that certain TPP countries, which are also RCEP members, such as Australia, Japan, and Malaysia, may now be seriously considering focusing more vigorously on RCEP, rather than TPP. This renewed emphasis on RCEP - especially by such influential, trade-savvy TPP countries - could result in a much higher quality agreement, which in turn, would make RCEP more attractive as the APEC-preferred vehicle to achieve FTAAP. Such further refinements would also presumably open RCEP to a larger membership in the future, including APEC countries from Latin America.
At present, however, RCEP constitutes a more modest, significantly less ambitious RTA when compared to TPP. The current RCEP negotiations, of which there have been 15 rounds to date, cover, among others, trade in goods, trade in services, investment, economic and technical co-operation, intellectual property, competition, e-commerce, and dispute settlement. There has been a strong emphasis placed on market access and tariff concessions to facilitate global supply chains, rather than on non-tariff barriers. Unlike TPP, the RCEP does not include provisions on environmental, labor, and food safety standards, has less coverage of cyber/internet issues, and does not address the treatment of state-owned enterprises. Nonetheless, through more active intervention by concurrent TPP-RCEP member countries, we could potentially see a melding of more advanced TPP provisions into the fabric of RCEP. Alternately, TPP elements could percolate into the APEC-driven FTAAP negotiations, particularly if the US decides to take an active role, as it should, in the just-announced Lima FTAAP Declaration work programs.
President Xi's resounding success in Lima in pushing forward with FTAAP, and gaining adherents to RCEP as the primary "pathway" to achieve FTAAP, represents a monumental "double-win" for China of truly historic proportions. This coupled with the apparent demise of TPP constitutes a massive blow to US standing and credibility in Asia Pacific, the consequences of which are still unclear, but are likely to be far-reaching.
China appears at this juncture to have assumed the mantle of Asia Pacific trade and economic torchbearer. It remains to be seen how Trump will respond.
Donald J. Lewis, Director, Centre for International Economic Law, Trade & Development, London Centre of International Law Practice