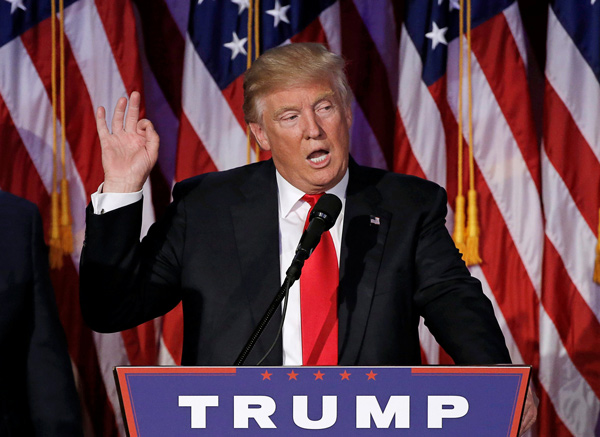 US President-elect Donald Trump speaks at election night rally in Manhattan, New York, US, November 9, 2016. [Photo/Agencies]
No American president or president-elect has spoken to a Taiwan leader since 1979. So the surprising telephone call between Taiwan leader Tsai Ing-wen and US President-elect Donald Trump on Friday provides further proof that the incoming US leader is determined to defy convention both domestically and in his foreign relations.
The three joint communiques the United States signed with China in 1972, 1978 and 1982, no matter read separately or as one, all explicitly say the US recognizes Taiwan as part of China and the People's Republic of China as the sole legal government of China.
Even though the world had got used to Trump's wild, and sometimes offensive, remarks during his presidential campaign, it would be unreasonable to tolerate his disregard of the US' commitments to the three monumental documents, which lay the political foundation for China-US ties.
With media speculation running rife about whether Trump was playing the "Taiwan card", it is necessary to remind the US president-elect and his transition team about the sensitivity of the Taiwan question. Over the years, compared with skirmishes in such areas as trade, cyber security and currency, the Taiwan question has always remained the most sensitive in bilateral ties.
That is why both Democratic and Republican US presidents in recent years have trod a prudent path when handling the US relationship with the island without provoking Beijing's most sensitive diplomatic nerve.
As an opinion piece in The Wall Street Journal on Monday noted, Ronald Reagan, Bill Clinton and George W. Bush all took office pledging closer relations with Taipei, with Bush even promising "whatever it takes" to defend the island. Once in office, however, they all prioritized ties with Beijing.
After the efforts from both sides in promoting bilateral interaction for nearly four decades, the entirety of China-US relations now has significance beyond the bilateral scope.