A quixotic TPP quest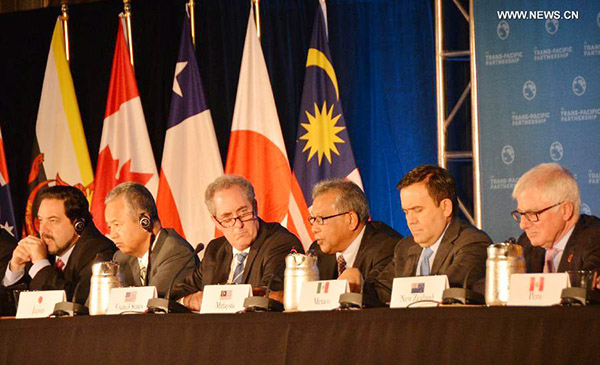 Trade ministers of the United States and 11 other Pacific Rim countries attend a press conference after negotiating the Trans-Pacific Partnership (TPP) trade agreement in Atlanta, the United States, on Oct. 5, 2015. [Photo/Xinhua]
After US President-elect Donald Trump said last month he would withdraw his country from the Trans-Pacific Partnership Agreement on his first day in office, Singapore and Japan, both members of the trade group, are joining hands to try and keep the deal alive.
During a meeting between visiting Singapore President Tony Tan Keng Yam and Japanese Prime Minister Shinzo Abe on Thursday, the two leaders vowed to strive for the early entry into force of the TPP even without the participation of the United States.
The duo's efforts are quixotic, for even Abe admitted last month that "the TPP is meaningless without the United States".
It is also impossible, since according to its rules, the TPP can only come into force when it is ratified by six countries that account for at least 85 percent of the group's economic output. Without ratification by the US, whose economy makes up 60 percent of the TPP's economic weight, the deal in its current form is dead in the water.
The only possible option for Japan and Singapore to keep the deal alive is to amend the requirement clause for it to come into force. That means the remaining members excluding the US would have to hold fresh negotiations, which, as Singapore Prime Minister Lee Hsien Loong admitted, would not be easy to do.
By trying to give the kiss of life to the TPP, Singapore and Japan cannot but raise eyebrows over their intentions. The trade deal, that was designed to exclude China, has long been deemed a geopolitical tool of the US designed to counter the world's second-largest economy's influence in the region, which is why some have called it an "economic NATO".
If Singapore and Japan really care about free trade, they should embrace the inclusive regional trade regime proposed by China two years ago.
For unlike the TPP, the Free Trade Area of the Asia-Pacific aims at ensuring the openness that is the lifeblood of the region's economy.