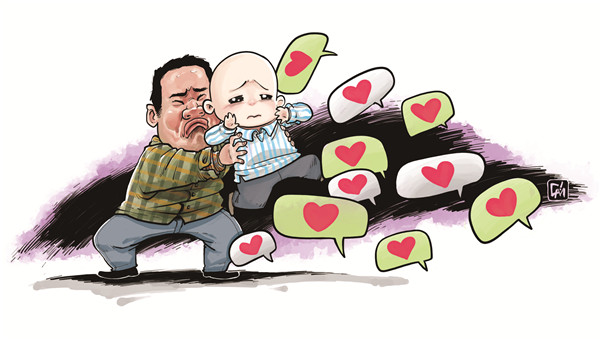 Cai Meng/China Daily
Within half an hour on Nov 30, I went on a personal roller coaster between feeling mildly good about myself to feeling duped.
It was all because I had forwarded an article on WeChat.
The article detailed the difficulties faced by Luo Er, a reporter in Shenzhen, whose 5-year-old daughter, Luo Yixiao, was in intensive care for leukemia. He mentioned the treatment could cost between 10,000 yuan ($1,500) to 30,000 yuan a day. But instead of explicitly asking for donation, he said forwarding his article would suffice as a third party would pay 1 yuan each time it was reposted.
I normally refrain from doing such "good deeds" but Luo's status as a journalist, his recounting of the details of his daughter's situation and his non-coercion in seeking public support lend it credibility. Most crucial of all, my brother recently died of colon cancer and I had a reflex of empathy for Luo.
Little did I know that when I was reposting it to my friends on the app, the piece was being debunked: Luo had three properties in the city where real estate prices are sky high. He had vastly exaggerated his financial need.
The whole thing was a scam concocted by a company whose goal was to accumulate eyeballs.
I quickly deleted my post, feeling bad about anyone who might have lost money because of my impulsive act. But I also thought things weren't as clear-cut as they were made out to be.
Thanks to the timely reaction of local media and relevant organizations, the truth emerged the next day. And indeed, it was not all black and white.
The medical condition of Luo's daughter was accurate. In China, it would be a gross violation of ethics if a parent makes up such a claim. It would be seen as a curse on one's child.
Luo indeed has three properties-one in Shenzhen, where the family resides, and two in neighboring Dongguan. The Dongguan apartments have not been issued ownership permits yet, which makes resale a bit hard. And all three units are far from being highly valued.