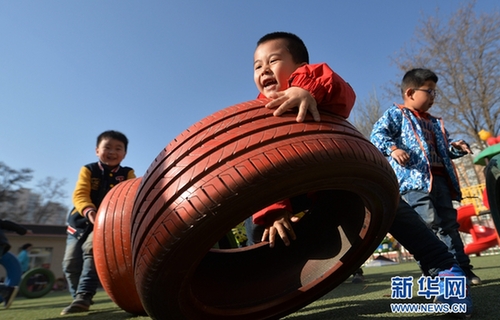 Children play in a nursery school in Lanzhou city on March 3. In order to support preschool education in Gansu, the province's Education Department will grant 1,000 yuan ($153.1) to each child in kindergarten every year beginning in 2016. Gansu has nearly 4,000 registered nursery schools with more than 700,000 children by the end of February. [Photo/Xinhua]
SOME PRIVATE PRESCHOOLS in Wuhan, Central China's Hubei province, reportedly charged parents more than 40,000 yuan ($6,000) for just a 10-month course. Beijing Youth Daily commented on Saturday:
That some expensive Wuhan preschools tried to instill in kids knowledge they are only able to understand in primary schools shows children in China are still overburdened by education. Although preschools are no longer allowed to offer primary school courses, many parents ignore the rule fearing their children might lag behind without prep work, which often involves courses designed for older students.
In Wuhan, a "super" preschool has only about 20 students, each provided with three teachers of different subjects. The kids are made to study courses way beyond their intellect, ranging from creative expression and arts to Mathematical Olympiad.
Public kindergartens have been banned from teaching these courses, but the private ones continue to offer them. Some parents' enthusiasm for advanced preschool education, in turn, further emboldens the private preschools to make huge profits from their so-called preparatory classes.
So dissuading parents from forcing their kids into such courses is not enough. The legislative authorities need to do their part by banning preschools, be they public or private, from providing higher-level courses. This is not easy in China, where many parents pressure their children to stay competitive right from the elementary level. Due to the absence of the preschool education law, education authorities at all levels can do little to keep preschool education in check.
Sought after by many parents, a limited number of leading elementary schools tend to take in candidates who have extra skills, which are exactly what some "super" preschools claim to develop in kids. A balance has to be struck between "elite" education and normal recruitment policies to prevent parents from overburdening their children with courses beyond their understanding.