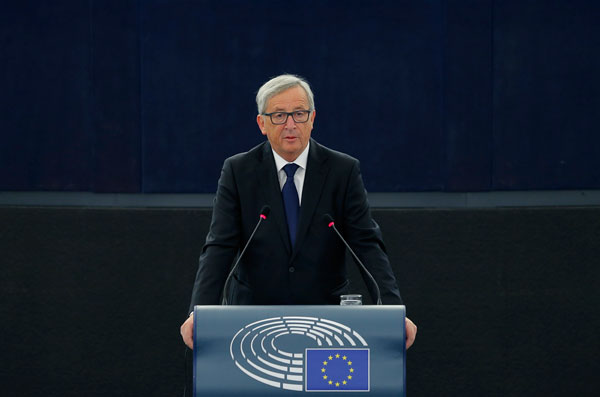 European Commission President Jean-Claude Juncker addresses the European Parliament in Strasbourg, France, September 9, 2015.[Photo/Agencies]
A Chinese friend accompanied a climate delegation on its visits to Berlin and Brussels earlier this month when the United States and China ratified the Paris Climate Agreement at the G20 Summit in Hangzhou, East China's Zhejiang province. When he met me later in Brussels, he was eager to know about the situation in the European Union, especially because of the challenges the bloc faced at this crucial time in history.
I had a hard time convincing him that the future is not as gloomy as he feared, partly because the climate delegation's experience in Berlin was disheartening as two of its members had their passports and wallets stolen while dining at a restaurant.
But I wouldn't put Berlin in the category of unsafe EU cities, which unfortunately Paris, Brussels and Rome have become for Chinese tourists. Five years ago, I had forgotten my wallet in a roadside eatery in Berlin. When I went there a day later, the waiter smilingly returned it tome.
But despite my friend's negative experience in Berlin, he talked about something encouraging. He said he had sensed that Germany and the EU, green champions both, had begun to play a greater leadership role after the US and China had set a good example in environmental protection.
My friend also touched upon something that Europeans would want to know, for instance, what European Commission President Jean-Claude Juncker will say in his second state of the union address on Wednesday. The speech is similar in style to the annual State of the Union address by the US presidents, although the concept of a "United States of Europe" is still a long way off.
What people want to know from Juncker's speech is: How can the EU become safe like it was in the past in the face of massive illegal immigration? And how can it regain its position as a global leader and become a responsible stakeholder in the international relations?
Juncker, a veteran politician and former prime minister of Luxembourg, seems to have assumed the EC post at the wrong time. Soon after he took office, three deadly terrorist attacks shook Paris and Brussels. And in June, people in the United Kingdom voted to leave the EU.
I believe the political legacy of Juncker and other top EU politicians will depend on how Europeans respond to the threat of terrorism and the UK's decision to leave the EU.
Because of the three terrorist attacks, Europeans feel like the EU is more unsafe now than it has ever been after World War II. And Brexit has dealt the first major blow to European unity.
I also talked with my neighbors to know what they would like Juncker to highlight in his state of the union speech. The response of a middle-aged teacher from France who teaches the French language to immigrants in Brussels was what functions does Juncker fulfill and how did he become EC president. I explained the functions of some of the EU's leading institutions such as the European Parliament, European Council and the European Commission. He told me that he learned these things in school, but since he could not vote in a EU-level election, it all went in through one ear and out the other.
I asked him how many of his fellow Europeans are indifferent to the EU and its functions. He paused for a moment before saying "at least half".
This lack of interest may be another challenge for Juncker. Therefore, apart from offering timely remedies for the challenges the EU faces, Juncker and his fellow EU officials must try to reach out to people across the EU and cooperate with global stakeholders if they want to restore the bloc's global leadership role.
Only by using all its political resources and will can the EU overcome the mighty challenges it faces today.
The author is deputy chief of China Daily European Bureau
fujing@chinadaily.com.cn