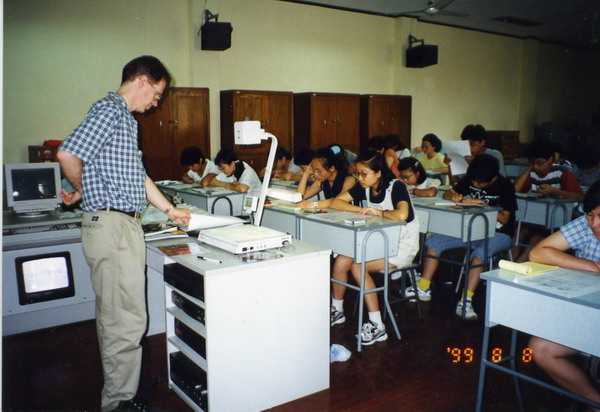 The photo shows that students studing English with their foreign teacher. [Photo provided to China Daily] 
With its rapid economic development and opening up, China has opened its doors to English teachers from various nations. I heard that Chinese schools show a preference for British English, followed by American English. Here are some stories about Asians trying to become English teachers here in Beijing.
The first story is about a lady who bought a duplicate certificate (from a fake certificate provider company in Beijing) saying that she had learned English in Canada and started a teaching job. However, she gave up the job when she was investigated by the authorities. Lacking confidence, she left the school in a timely manner, closing the chapter on her teaching career.
The second story is about a young, energetic and handsome Asian guy who was trying to get a teaching job in Beijing, but ethnicity was standing in the way of his goal. Finally, he colored his hair gray and changed his get up, making himself appear like a Caucasian. His English accent was perfect. Now he is the owner of an English language institute. His institute hires some western teachers to fortify his goodwill.
Thirdly, many blacks, Asians and Africans also hold teaching jobs but there is a vast disparity in wages.
Is China serious about paving the way for English learners? Should English teaching be restricted only to those who look Caucasian in China? What should be the criteria for teaching English in China? I will respect all your suggestions and progressive ideas. Thanks.
The original blog is at: http://bbs.chinadaily.com.cn/blog-1354070-36689.html