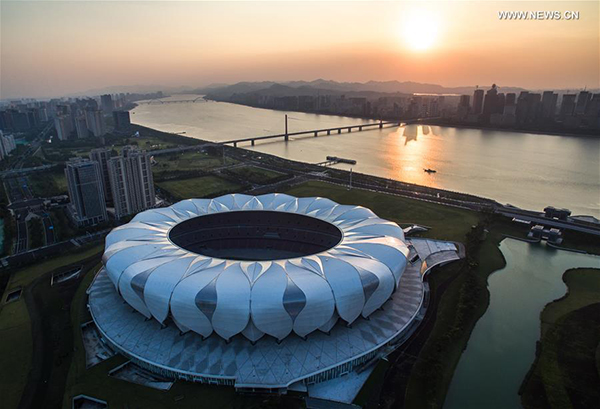 Photo taken on Aug 25, 2016 shows the Hangzhou Olympic Sports Center in the Binjiang district of Hangzhou, capital of East China's Zhejiang province. Hangzhou is the host city for the upcoming G20 Summit.[Photo/Xinhua]
The world economy can't grow without China. And China can't continue growing unless the rest of the world does. This recognition of mutual dependence was the key theme that emerged last November in a discussion in Beijing between China's President Xi Jinping and members of the Berggruen Institute's 21st Century Council.
As host of this year's summit, China's President Xi want to cement the role of the G20 as the governing body which coordinates common policies that foster global growth.
Other Chinese officials have echoed Xi, arguing that the G20 should shift from being a "fire brigade" that only responds to economic emergencies, like the 2008-2009 financial crisis, to a strong proactive institution that can sustain long-term growth initiatives from year to year.
The way it is now, the setting of the annual agenda depends on the priorities of the rotating host without continuity over time which is necessary to be effective.
The discontinuity and lack of follow-up between summits has been so great that Al Gore once called the G20 "clothes without an emperor" in a snide allusion to the stilted group photos of business-suited leaders who rarely rise to the occasion.
At the 2011 Summit in France, then-President Nicolas Sarkozy proposed the establishment of a permanent secretary similar to the United Nations in order to enhance the group's weight and impact. China supported that proposal, which was not successful at the time, and is expected to recommend again this year.
Meeting in Mexico City in 2012 in tandem with the summit hosted by then-President Felipe Calderon of Mexico, the 21st Century Council made two organizational recommendations.
First, they followed up on Sarkozy's idea of a permanent secretariat that would serve an executive troika–the previous, current and future chairs of the G20, thereby ensuring both institutional strength and continuity. The former French president is now a member of the 21st Century Council.
Second, they proposed that the G20 link up with subnational networks at the provincial and municipal levels to enable a decentralized implementation of climate change policies and not just rely on annual summits of top leaders.