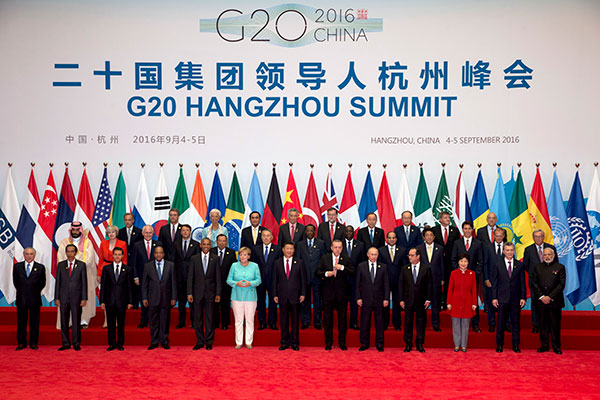 Leaders pose for pictures during the G20 Leaders Summit at the Hangzhou International Expo Center in Hangzhou, East China's Zhejiang province, on Sunday. WU ZHIYI/CHINA DAILY
Globalization was hailed as being the path toward greater shared prosperity. Things, however, started to change at the turn of this century, and the trend of anti-globalization has been gaining momentum.
There has been a growing wave of anti-globalization, anti-elitism, anti-establishment and the reemergence of populist politics in many countries. Brexit was a blunt rejection of Europe by those in Britain who complained about the influx of foreigners and the lack of jobs. A similar story can be seen across the Atlantic with the rise of US Republican presidential candidate Donald Trump, who has clearly won the support of those who complain about job losses, the influx of foreigners and the country's waning competitiveness.
And most of the world's major economies, notably advanced ones, are resorting to protectionist measures as the global economic slowdown bites harder. The WTO Doha round of negotiations has long been at an impasse. Both presidential candidates in the United States are promising what would be tantamount to a US exit from the global trading system.
There are a number of underlying causes for the anti-globalization movement: insufficient macroeconomic policy coordination among countries has left the existing international economic and financial governance system inefficient and ineffective; the sluggish global economic recovery and slow growth are undermining the case for open markets that globalization rests on; social endeavors, including poverty reduction, and better human rights and labor standards, lag behind across the world. Moreover, the benefits of globalization remain highly concentrated in a few countries and among the upper echelon of society.
At the same time, terrorism and political instability are slowing down the globalization process. The sense of insecurity that terrorism provokes and the fear that liberal standards are facilitating terrorism and that porous borders are allowing terrorists to enter target countries have caused the US and the members of the European Union to seek greater control over cross-border movements. And the spillovers of increasing geopolitical instability have added to people's sense of insecurity and prompted them to look inward.
However, the bottom line is, like it or not, we all live in a globalized world. Against such a backdrop, all eyes are now on the G20 Hangzhou Summit to deliver some answers.