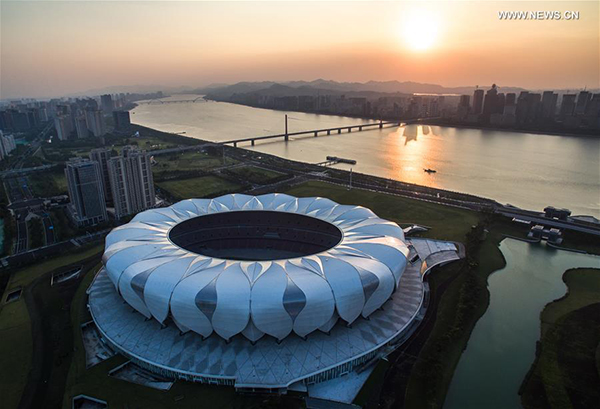 Photo taken on Aug 25, 2016 shows the Hangzhou Olympic Sports Center in the Binjiang district of Hangzhou, capital of East China's Zhejiang province. Hangzhou is the host city for the upcoming G20 Summit.[Photo/Xinhua]
This year, China is hosting the G20 gathering of world leaders. The leaders' summit will take place in early September, but finance ministers, central bankers, finance deputies and "sherpas" from the G20 countries have already met several times this year, focusing mainly on the problem of weak global growth.
Japan and the EU have implemented negative interest rates, but this has not kick-started growth. The Middle East crises, Brexit, Europe's refugee problem, and the rise of protectionist sentiment all place stress on global economic confidence. China no longer enjoys double-digit growth, and must devote its energies to retooling its domestic economy while also watching its growing national debt. China's slowdown also affects commodity producers, which no longer benefit from selling resources to the Chinese market.
How can the global economy break out of this low-growth trap? The G20's theme this year is "Toward an Innovative, Invigorated, Interconnected and Inclusive World Economy". The hope is that, by harnessing innovation and connectivity, both developed and developing countries can find new pathways for growth. As host of the G20, China's own experiences offer clues on how other countries may find such pathways.
First, China has done impressive work enhancing its domestic connectivity. China's comprehensive highway, railroad and air infrastructure ties the country together. China now hopes to use its strength in infrastructure building to enhance connectivity beyond its shores, strengthening its links with the outside world. Infrastructure building needs huge amounts of funding, which China can help provide in conjunction with other international partners.
The Asian Infrastructure Investment Bank (AIIB) would help fill the infrastructure-funding gap hampering growth in South and Southeast Asia. The Belt and Road Initiative (BRI), meanwhile, would see more participation by Chinese companies in infrastructure projects throughout the Eurasian continent.
Second, China is experiencing a rapid development of entrepreneurship and innovation, particularly in the digital economy. The G20 summit will be held in Hangzhou, home to Alibaba, a private e-commerce company that has revolutionized how China shops and pays.
Cities like Shenzhen, Guangzhou and Chengdu are hubs for technology start-ups that push the frontiers of the digital economy. Thanks to these companies, it is easier than ever for small Chinese entrepreneurs to access funding, gain an online presence, and deliver goods throughout the country riding off China's infrastructure. Entrepreneurship, innovation and technology have vastly improved the economic lives of ordinary people in China, and may carry lessons for other countries wishing to do something similar.
These experiences may not perfectly transfer to other countries. China has the experience and the money to fund large-scale infrastructure projects, which other countries may not enjoy. They may also not enjoy the specific domestic environment, such as population size and a high literacy rate, that Chinese entrepreneurs enjoy.
Nonetheless, the basic story still holds. China has developed hard infrastructure, which along with other elements such as the adequate provision of education and healthcare form the foundation for economic growth and employment. In order to unleash new areas of growth, China is encouraging innovation-based entrepreneurship, particularly with regard to technology.
China's hosting of the G20 meetings fits into China's increasingly pro-active approach to foreign economic policy. The AIIB and the BRI show how China can use its economic strength constructively on the world stage.
The G20, meanwhile, offers China a platform to demonstrate the point of view of a country that is both an important economic power as well as a major non-Western developing country. China can show that it has its own ideas to offer on the topic of international economic development.
The author is a former research analyst at RSIS China Program, Nanyang Technology University. The opinions expressed are the author's own.