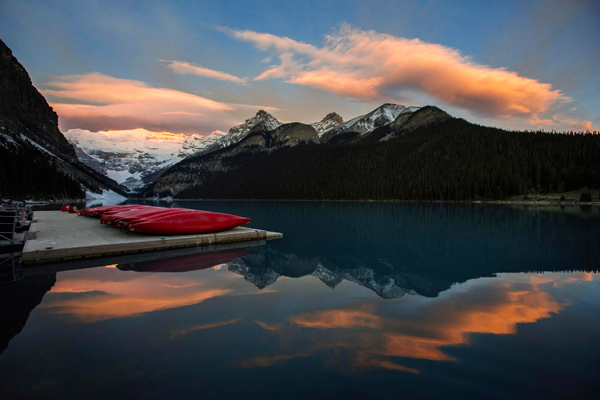 Canoes are seen on a dock on Lake Louise at Banff National Park, in the Canadian Rocky Mountains outside the village of Lake Louise, Alberta, October 3, 2014. [Photo/Agencies]
After fulfilling the obligations of my teaching for the current school year, I thought that I should seize the opportunity to pay a visit to Montreal, Quebec, my hometown. My main objective was to relax in order to rejuvenate in preparation for handling the challenges of my retirement that lie ahead.
I never thought or imagined that my trip would turn into a learning experience. Through my stay in Montreal, I had the opportunity to encounter numerous Chinese who are struggling to pave their routes to success and subsequently lead a better life in Canada.
My good fortune led me to stay at a hotel called Casa Bella that is run by Chinese. The hotel is located on the corner of Sherbrooke and Parc Avenue in the downtown area. It is a safe haven for Chinese tourists who ache for a friendly Chinese atmosphere. The members of the staff speak English, French and Chinese.
My journey paved my way to encounter a variety of Chinese individuals who came to Canada looking for a better life.
Some travelled thousands of miles while leaving behind family and friends for the sake of acquisition of knowledge. They wished to advance their studies both in English and French in Montreal universities
They transcended the barrier of languages to blend in with their Canadian counterparts.
Speaking with few of them about the obstacles they had to face upon their arrival to Canada, they said the difficulty to communicate in both the official languages of Canada as the major hurdle that they had to surpass.
For certain, I was impressed by their facility to express their ideas while switching from English to French and vice-versa.
Almost all of those with whom I talked said that often they felt homesick. They miss their families and friends. Despite the fact that Montreal has numerous Chinese dining establishments, they long for a home-cooked meal prepared by their beloved mothers.
I had the chance to meet tourists who were trying to fulfill their childhood dreams of experiencing the life in a developing country.
When I asked them if Montreal had fulfilled their expectations, they were hesitant to reply affirmatively. They indicated that reality never measures up to fantasies. However, they were glad to have the opportunity to visit Montreal. They had no regrets about taking the trip.
Not all Chinese whom I encountered were happy. I met a young lady who came to meet a gentleman with whom she made acquaintances with him through the internet to face horrible disappointment of never seeing him after he promised to marry her in Montreal.
I was served by another Chinese who could not handle the challenges of studying in an English environment to end up working in the restaurant service sector with minimum wage.
Exploring different parts of the world, without any doubt, is an enriching experience. However, one should be realistic when it comes to leaving one's hometown to establish a new life in a foreign country.
One should take the time to examine the merits and the shortcomings of the venture before deciding to alter the course of his or her life chasing after an elusive dream of achieving success or leading a better life.
The original blog is at: http://blog.chinadaily.com.cn/blog-1376588-36662.html