Editor's note: The first kind of job that a lot of people can image foreign graduates tend to find in China is being an English teacher. However, do they really like being a teacher? Does it have any future prospects? Some news outlets also have written that some fake recruitment information is being sent out to cheat foreign job-seekers. A lot of China Daily readers are English teachers, so they share with us their experience and suggestions.
Teamkrejados (US)
As a foreign teacher, you must accept that your position will be mainly panache, and that you will have little or no input on what gets taught and how.
As English teaching materials in China are often confusing and are replete with mistakes, you should learn to rely on your own creativity to produce materials (in conjunction with the books, if need be).
Beware of institutions that have no license to hire foreigners, and of those who would keep your passport. ALWAYS get a contract before you come!
That being said...
I went through ESL across China to get my job. My contact's name is Hubert Reid. My placement did not cost me anything (nor does it cost me to get my yearly visa. The school pays for it all) There are other qualified headhunting organizations; simply do a search for 'teach English in China' to find them.
Or, you could go through Dave's ESL Cafe, a site with plenty of resources for teachers, as well as job postings.
You do have to have some teaching experience, and getting a TESOL before arrival is a good idea.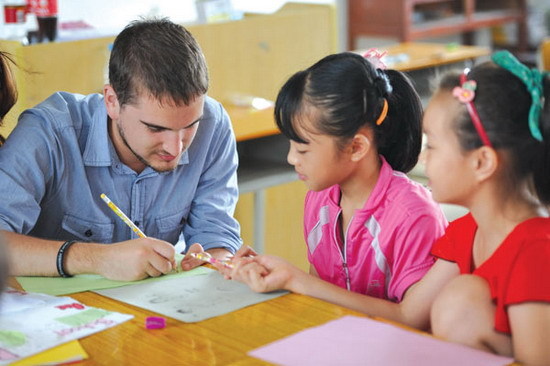 Sean McNally from Britain teaches Chinese children how to learn English through paintings. Many students in China have trouble learning English and using it in their daily lives. [Photo/China Daily]