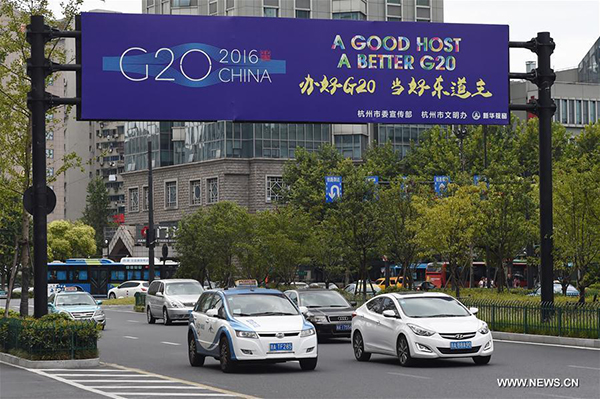 Cars move on a street in Hangzhou, capital of East China's Zhejiang province, Aug 27, 2016. The 11th G20 summit will be held from Sept 4 to 5 in Hangzhou. [Photo/Xinhua]
As global leaders prepare to gather in picturesque Hangzhou in East China's Zhejiang province to attend this year's G20 Leaders' Summit, and the German port city of Hamburg prepares to play host to the next G20 summit, they can learn a great deal from a rapidly growing economy and an industrialized giant about how to improve their respective economies.
But to lead the world economy out of the ongoing downturn, world leaders have to think "beyond G20", which means they have to focus on more than macroeconomic policy coordination and make earnest efforts to reform the global financial regime. For example, they should seek to improve the livelihoods of people across the world and increase their respective countries' competitiveness.
The mission of the G20 summit is to inject new life into the global economy, something which China and Germany, as G20 summit hosts in 2016 and 2017, can review to improve their own competitiveness.
The failure of the United States to regulate Wall Street, especially stock traders' greed-which led to the collapse of Lehman Brothers in September 2008 and subsequently the global financial crisis-was criticized at the G20 summit in Washington in 2008. While all countries made efforts to plug the loopholes in the financial and banking sectors and regulate their fiscal policies, Germany shone the most for keeping its real economy thriving, the jobless rate low, and remaining a strong regional power despite being a part of the European Union.
The Germany we see today has grown out of the rubble of World War II and has remained committed to global peace. On the economic front, Berlin's forward-looking strategy of Industry 4.0 vision is visionary and successful. It has entered into partnership with Beijing to enrich and further develop Industry 4.0 to cash in on internet technologies and revolutionize the real economy. Germany, in fact, has been one of the rare Western industrial powers willing to share its high-tech expertise with China. Of course, China too has lots of experiences to share in return.