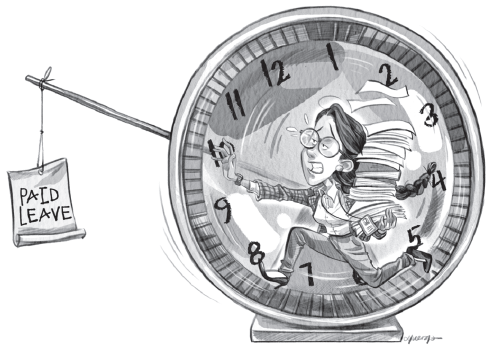 LI MIN/CHINA DAILY
According to a recent media survey, 22 percent of the respondents visited their parents every six months, 28 percent once a year and 8 percent had not done so for many years. The respondents were people working or living away from their hometowns.
Now, Beijing municipal authorities plan to grant "filial leave" to employees to encourage them to visit their parents more frequently. The plan is part of the draft of the municipality's 13th Five-Year Plan (2016-20).
The municipal authorities should be lauded for their effort, but their move may not be enough to prompt people to visit their parents more often. The fact is, employees get public holidays plus two-day weekends and, according to a 2008 regulation, they have the right to get paid leave of between five and 20 days. The problem is that not many can get paid leave. According to a Ministry of Human Resources and Social Security survey conducted in 60 cities in 2015, only about half of the respondents, most of them government or State-owned enterprise employees, enjoyed paid leave. Private enterprise employees were worse off.
Besides, for some employees, even weekends are a luxury. According to a 2013 survey conducted by Guangzhou-based Sun Yat-sen University, 38 percent of the respondents worked extra hours, and 45 percent of those didn't get any extra payment. Worse, some recent media reports say, 58.com, a major domestic website, asked its employees to work six days a week without additional payment.
Of course, employees can sue their employers for violating labor rights, but they could lose their jobs for that. Worse, the law is silent on punitive action against employers violating workers' right to take paid leave.
The idea of "filial leave" dates back to 1981, when the State Council, China's Cabinet, announced employees should get 20 days' leave a year so that they can visit their parents living in other cities. The "parent-visit leave" is legal but exists only on paper. If the proposed "filial leave" regulation, too, turns out to be good only on paper, it will not help increase people's trust in regulations.
This is not to suggest the authorities should not enact regulations on paid leave. But they should also, for example, implement a law to penalize employers that don't grant their employees paid leave.
Li Shi, of Beijing Normal University, says the social security fund collected by the State increased by 27 percent a year from 2006 to 2010, while workers' wages rose by 16 percent a year. In other words, enterprises contributed more to social security fund per employee, but the majority of the fund went to the State.
So authorities could consider the possibility of reducing the social security cost for employers to prompt them to grant employees their due paid leave. Only after such measures are taken can employees' right be fully protected.
The author is a writer with China Daily.
zhangzhouxiang@chinadaily.com.cn