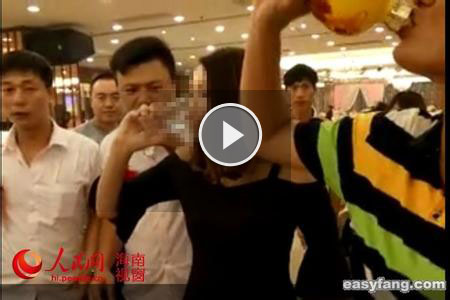 A scrrenshot of the video clip.file photo
A 28-YEAR-OLD bridesmaid, surnamed Yang, died when she suffocated on her own vomit after drinking too much at a wedding in Wenchang, Hainan province, South China. Beijing Times commented on Tuesday:
Tragedies resulting from people drinking too much at weddings are not unusual.
The bridesmaid herself has to bear some of the responsibility for her death, because as an adult she is responsible for her actions. But it is also a result of the so-called rural folk culture.
Yang died as a drunken bridesmaid, and some people say that this girl is too honest and thus a fool. "Couldn't she mix the alcohol with water to drink?" Perhaps this is the wise and practical way to drink for many, but it is not always easy to do.
Especially at weddings, when it is considered collective fun to get the bride and groom, even the bridesmaids, drunk.
In this sense, she was actually powerless, as it is customary for the best man and bridesmaids to be drowned in drinks.
This allows others to drink to excess, and so puts people's lives at risks.
This is not culture, it is a tragedy.