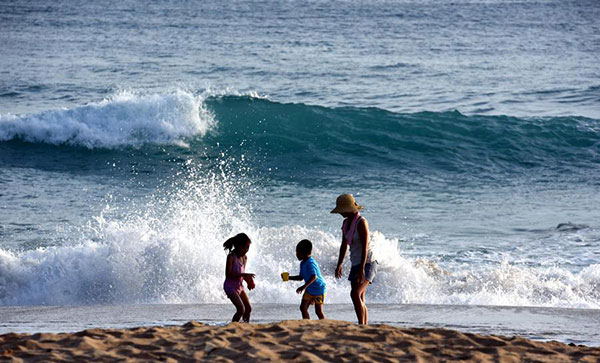 A significant drop in mainland visitors in the past few months has taken its toll on the island's tourism economy.[Photo/Xinhua]
More than 10,000 Taiwan tourism operators and workers took to the streets in Taipei on Monday demanding the island's government take steps to revive the industry, which has been hit hard by a sharp drop in the number of tourists from the mainland.
Mainland visitors were the driving force for a tourism boom under former Taiwan leader Ma Ying-jeou's administration. But since the pro-independence Democratic Progressive Party chief Tsai Ing-wen took office as the island's leader in May, the number of mainland tourists to Taiwan has fallen more than 20 percent, causing the island's tourism industry to slump.
The deadly bus fire in July that killed an entire tour group from the mainland sent chills down the spines of potential visitors from across the Straits, as the police investigation found a suicidal driver intentionally set the vehicle on fire.
But anti-mainland sentiment, fanned by separatists on the island, is also to blame.
However, the fundamental problem is Tsai's mainland policy, which seeks to maintain the "status quo" while refusing to acknowledge the 1992 Consensus that there is only one China.
The consensus that both sides of the Taiwan Straits are part of one China is considered by the mainland the political foundation and the bottom line for cross-Straits exchanges.
Bringing interactions across the Straits back to normal will be out of the question if Tsai refuses to recognize the 1992 Consensus. Since Tsai took office the existing mechanisms for dialogue and communication between the two sides have been virtually suspended.
Chen Deming, chairman of the mainland's Association for Relations Across the Taiwan Straits, the semi-official agency in charge of cross-Straits relations, said such contacts can only be resumed once the 1992 Consensus is recognized by Tsai.
In her "inaugural" speech, Tsai played a game of words, using "a fact of the 1992 talks" to describe the Consensus.
She obviously hoped she would be forever able to drag her feet over recognizing the 1992 Consensus while continuing to reap benefits from cross-Straits exchanges built up around the Consensus over the eight years her predecessor was in office.
But her foot-dragging cannot continue long as it is damaging the island's economy, as suggested by the woes being faced by the tourism sector, the decreasing trade and continuous capital outflows.
The mainland has called Tsai's mainland policy a test she only gave an "incomplete" answer to in her inaugural speech. To lift Taiwan out of all its economic troubles, Tsai has to complete the right answer-and the sooner she does it the better.