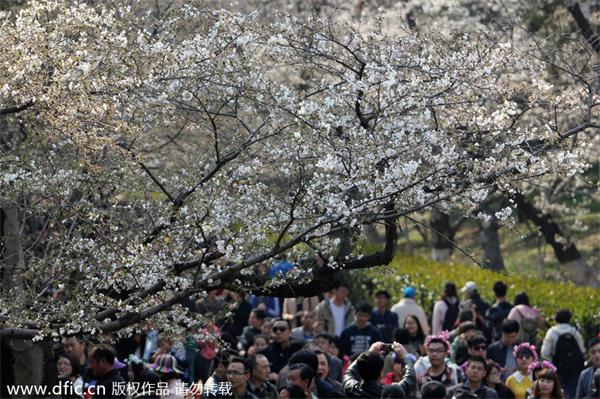 People flock to the cherry blossom garden in Wuhan University on the first day it began selling tickets in Wuhan city, capital of Central China's Hubei province, March 21, 2014. [Photo/icpress.cn]
THE MAIN TEACHING BUILDING OF Wuhan University in Central China's Hubei province was demolished with explosives on Friday. Media reports quoted local officials as saying they demolished the building as it spoiled the scenic surroundings of nearby East Lake. Southern Metropolis Daily commented:
The building, designed by architect He Jingtang, was built in 1997 at the cost of 100 million yuan ($14.9 million) and put into use in 2000. It won several national architecture awards, including the top award for architecture, the Luban Award.
Yet the building was demolished at the cost of 13 million yuan. That's a huge waste of taxpayers' money, because Wuhan University is a public university, funded by the State.
Moreover, the incident is a legal matter. Let's have a look at the nation's Circular Economy Promotion Law, which requires urban governments and the owners of buildings to take measures to maintain them and lengthen their service life. The law also forbids local governments to demolish buildings within their service lives unless it is in the public's interest.
Obviously, demolishing the university building breaks the law. In order to defend themselves, the officials offered the excuse that the building was so high that it exceeded the height limits for buildings around the East Lake. They even said that the building has "ruined the scenery of East Lake".
That's a rather weak excuse and a ridiculous defense. As early as the 1980s, East Lake was listed in the national plan for ecological tourism, and the building was constructed later than that. If the building went against that plan, why did the officials not intervene when they started building it? Why were they silent in 1996 and then have the building demolished 20 years later?
Officials in Wuhan now face a dilemma. If they insist the demolished building had problems, the officials who approved its construction in 1996 should be held answerable. If the building did not break any planning restrictions and there was no justification for the demolition, those who decided to demolish it should pay for their deeds. Something illegal has happened and taxpayers' money has been wasted, and we hope to make clear who is responsible.