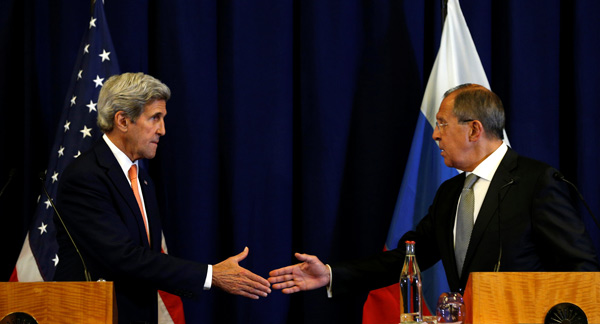 US Secretary of State John Kerry and Russian Foreign Minister Sergei Lavrov (R) shake hands at the conclusion of their news conference following their meeting in Geneva, Switzerland where they discussed the crisis in Syria, Sept 9, 2016. [Photo/Agencies]
A cease-fire brokered by US Secretary of State John Kerry and Russian Foreign Minister Sergei Lavrov on Saturday offers a ray of hope for an end to the conflict in Syria that has killed hundreds of thousands of people.
Russia and the United States reached a truce agreement in February, but it failed to stop armed conflicts between Syria's government and opposition forces. The new deal demands the Syrian government and opposition factions not use force so that humanitarian aid can be provided to long-besieged towns and villages.
At the same time, Russia will urge the Syrian government to stop military actions against opposition forces in specific areas, and, in return, the US will demand Syria's "mild" opposition forces separate themselves from the extremist Fateh al-Sham Front. If a cessation of hostilities holds for one week, the US and Russia will strengthen their military cooperation in Syria, such as sharing intelligence and conducting joint operations against jihadists.
The latest truce deal reflects the complicated situation in Syria and the changed policy considerations of Moscow and Washington. The emergence of the Islamic State group, with which Syria's opposition forces have links, seems to have created a joint enemy for both Russia and the US in Syria and thus prompted them to change their previous stances.
The US previously insisted that Syrian President Bashar Assad must resign, but Washington has budged from this stance. Strained ties with the West on the Ukraine issue and its lingering economic woes have also prompted Russia to pursue cooperation with the West while ensuring its traditional interests in Syria.
In fact, Russia has been pursuing cooperation with the US in the past months in the fight against extremist groups such as the IS. At the same time, the unclear future of Turkey's ties with Russia and the US has also prompted the US to pursue cooperation with Russia.