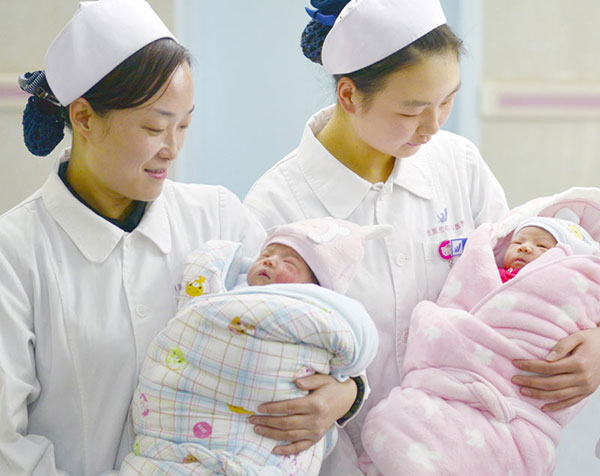 Obstetric nurses in the Central Hospital of Enshi, Hubei province, take care of newborns at the hospital. [Li Yuanyuan / for China Daily]
A NUMBER OF female teachers in Guangzhou, capital of South China's Guangdong province, have reportedly taken maternity leave to bear a second child after the country officially changed the family planning policy this year. China Youth Daily commented on Tuesday:
The number of female teachers wanting a second child might pose a challenge to schools, because replacements are not easy to find. Earlier this year, a high school in Central China's Henan province even issued an annual quota for the number of female teachers who could have a second child for a certain period of time, hinting that those who got pregnant without permission could lose their job.
Such moves have unsurprisingly met criticism. Many argue that giving birth to a second child is legally approved and should be protected, and female teachers are entitled to maternity leave with full pay.
However, in Guangzhou's case, most of the female teachers aged between 35 and 40 are inclined to have a second child, according to a local survey. That could be a major problem for their employers, especially those schools with more female teachers than male.
For any school, if nearly half of its female teachers are planning to give birth in the next few years, at least 15 percent of the whole teaching staff will be absent per year. The percentage may even rise to more than 30 because of the long maternity leave they are entitled to.
The teachers at the schools cannot cover for their absent colleagues. So local governments need to recruit more qualified teachers and get rid of hidden freeloaders who do not show up for work but receive monthly pay as others do. Schools that have low student to teacher ratios could be merged.
Besides, back-up teachers, such as students at teacher-training colleges and retired teachers, can be encouraged to cover for teachers taking maternity leave. Of course, they should be entitled to fair pay and social insurance based on how long they work.