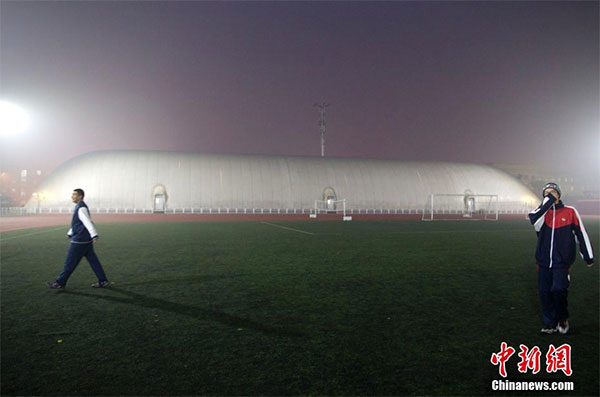 The exterior look of the inflatable gym. [Photo/Chinanews.com]
I had not expected a routine workout the other day to turn into a catch-me-if-you-can game.
Not when Chinese athletes had started their medal race in earnest at the Rio Olympic Games.
It was a hot summer evening. I put on my running shoes, activated the Joyrun app on my smartphone and hit the road. It was sultry, and I could smell the fumes from vehicles. So instead of running on pavements near my neighborhood as I usually do, I headed for the running track of a university not far from where I live.
Running on the campus, rather than in an ill-ventilated gym or on noisy streets, has always been enjoyable. So as I whizzed through the gate of the university toward the well-lit track surrounded by a high iron fence, I could feel the adrenaline rushing to the rhythm of my steps.
All of a sudden-out of thin air-someone popped up in front of me. Had I not managed to stop immediately I would have knocked the security guard down.
"Give me money," the man yelled. A security guard asked me to pay entry fee. How could I forget about it?
Allow me to take a diversion here. A Beijing Youth Daily investigation last month showed most of the 14 universities it surveyed in the city kept their sports facilities closed to the public, even though no students used them during the summer vacation.
Why? University employees said security reasons and worries about the facilities being damaged by outsiders compelled them to do so even though the government has been urging them since 2007 to keep their sports facilities open to the public. The National Fitness Program (2016-20) issued by the State Council, China's Cabinet, in June once again urged universities to open their facilities to the public, but few have done so because it is not obligatory.
The university where I was stopped is known for its business and trade-related disciplines and for years it has been charging 10 yuan ($1.5) to outsiders who use its running track, either to dissuade them from doing so or to make some easy money. In New Delhi, that amount can enable a person to use facilities at stadiums and sports complexes for a whole month under a pay-and-use scheme.
I have known the university rule for long. But that night, I didn't have a single penny on me. I have always been a law-abiding citizen, and I hate to argue with anyone or hurt a person in any way. But that night, at that moment, I did not want to back off.
Perhaps I was incensed by the man's rudeness, or angry at the university's policy which seems like extortion. Without a second thought, in the blink of an eye, I dodged past the security guard and darted off toward the track.
Caught completely off guard, the man was already a dozen meters behind me when he changed into chase mode. But he stopped after a few steps.
After the first round of the track, I saw the security guard standing one hand stretching out to catch me. I gave up. All the joy and fun associated with running had gone. I was not angry with the security guard, who was just trying to do his job. I was dispirited.
While Chinese athletes were adding more gold medals to their kitty in Rio de Janeiro, many sports facilities at home were lying unused. Can we expect more government-sponsored playgrounds and gyms for ordinary people?
The author is a senior writer with China Daily.
huangxiangyang@chinadaily.com.cn