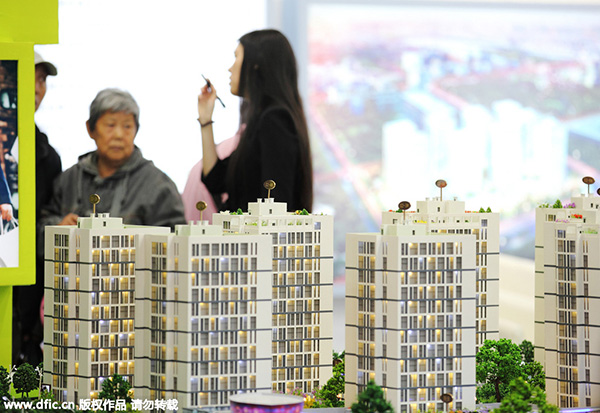 A sales woman introduces an overseas property program to visitors at a spring real estate exhibition held in Beijing, April 17, 2015. [Photo/IC]
At the just concluded Central Urban Work Conference, which was presided over by President Xi Jinping on Sunday and Monday in Beijing, it was decided to roll out measures to reduce the country's unsolved property inventory and stabilize its ailing housing market. Property developers will also be encouraged to change marketing strategies and "properly" reduce house prices. Xinhua News Agency says these decisions will help regulate the real estate industry and curb the money-power exchanges between local officials and property developers:
For years, many local housing markets have been stuck in a dilemma. On the one hand, house prices keep rising so property developers have been overly keen on building houses. On the other, residents have found it increasingly difficult to afford an apartment, dealing a heavy blow to domestic demand and leaving a considerable number of housing units vacant.
Luckily, the central government is paying more attention to reducing the inventory of unsold apartments, in the hope of keeping the industry healthy and sustainable. However, there are still some property enterprises that want local governments to rescue the sluggish market as they have done in the past.
It has been repeatedly proved that the real estate industry is not a nonstop economic engine, and it should not be allowed to expand without limits. The excess housing inventory must be managed in accordance with market rules, in a bid to encourage domestic consumption.
Of course, governments at all levels should promote reform of the household registration system to revoke the obsolete restrictive measures on new residents and expedite urbanization.
That some local governments depend on selling land at exorbitant prices for their fiscal revenues, may enable property enterprises to influence public policy and even lead to house prices continually increasing. To put an end to this vicious circle, they should get rid of their reliance on investment-driven growth and resort to more feasible alternatives.