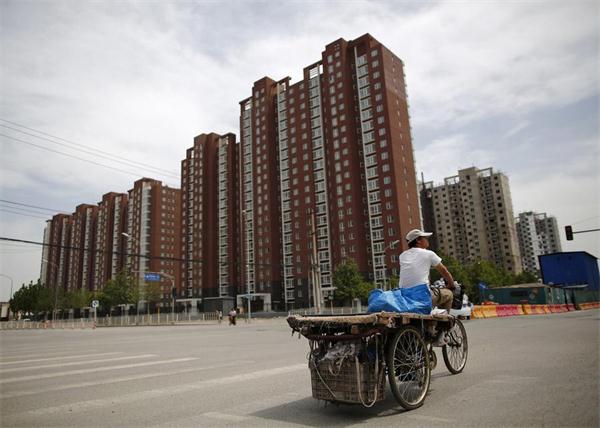 A garbage collector rides his tricycle as he looks for recyclable items on the streets of Beijing May 26, 2014. [Photo/Agencies]
A recent survey shows that metropolises like Beijing and Shanghai have seen the inflow of millions of migrants for the past several years. That coincides with the realty prices in these cities, offering some food for thought about the realty market, wrote Ye Tan, domestic economic columnist:
From 2009 to 2014, Shanghai saw an inflow of 5.04 million people. And 3.96 million people flowed into Beijing, 2.88 million into neighboring Tianjin, 2.75 million into Guangzhou, capital of South China's Guangdong province and 1.99 million into Dongguan in the same province.
These were the top five on the list of mainland cities that had the largest population inflows during this period, and proves the absurdity of the once popular assertion that people are trying to get away from the big cities.
A look at data from the National Bureau of Statistics shows that house prices have also risen in these first-tier cities over this period, while those in second-and third-tier cities fallen. The top 10 on the list of cities with the biggest realty price rises are all first-tier cities, while the bottom 10 are all small cities with slow economic growth.
There is now a cycle of people rushing to the big cities with abundant opportunities and pushing up the local realty prices with the increased demand. Big cities feature high realty prices and high-income groups.
Thus an economic pattern is emerging of megacities with prospering economies. Beijing is being linked with Tianjin, for example, and Shanghai with Suzhou, and they are both being linked with more satellite cities in their suburban areas.
The top choice for people is the metropolises, the second choice is their satellite cities and then second-tier cities. That's because there are jobs and opportunities there.
That casts heavier pressure upon small- and medium-sized cities. At the Central Economic Work Conference, held in Beijing between Friday and Monday, it was decided the realty sector needs to accelerate selling its inventory. It was also decided at the top-level conference that outdated limits on the realty market should be abolished, so that rural migrants can reside in cities.
It seems the officials hope mainland cities develop in a more balanced way. For that purpose, they need to follow market rules to guide population flows toward resource-rich places. Better public services and more opportunities will always attract people.