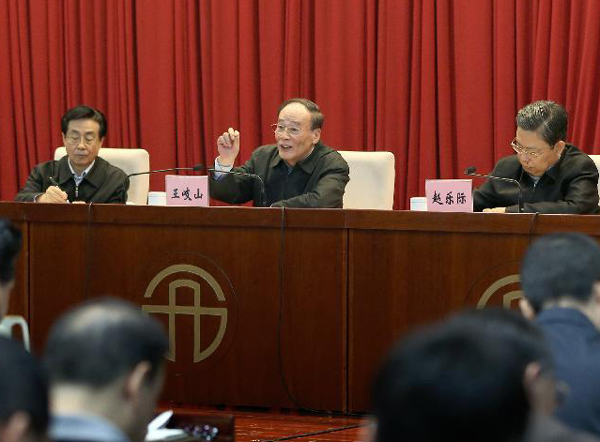 Wang Qishan (center), a member of the Standing Committee of the Political Bureau of the Communist Party of China (CPC) Central Committee and secretary of the CPC Central Commission for Discipline Inspection, addresses a conference on the work of central-level Party inspection in Beijing, China, Feb 11, 2015. [Photo/Xinhua]
Compared with 2014 when many corrupt senior officials, including former national security chief Zhou Yongkang, faced investigation or were prosecuted, 2015 saw fewer such cases. There are two reasons for that.
First, the two years of anti-corruption campaign before 2015 had curbed corruption to a certain extent. As a result, fewer big "tigers", or corrupt senior officials, were hunted in 2015. Unlike in 2014 when three vice-state level officials besides Zhou were put under investigation for suspected corruption, in 2015 Guo Boxiong, former vice chairman of the Central Military Commission, was the only official of that level to face a probe.
Second, having successfully deterred many of the "tigers" from making money illicitly, the top leadership turned its attention to "flies", or corrupt lower-level officials. The "flies" may exercise less power, but they can be as greedy as the "tigers". And since they deal directly with ordinary people, their corrupt activities pose an even greater threat to the credit of the Party and government.
This has been highlighted in the updated disciplinary measures of the Communist Party of China, which many say is "the strictest" in the Party's history. Party discipline chief Wang Qishan has even said that Party members have to abide by stricter discipline even if they come at the cost of certain rights and freedom.
That is totally justifiable: since the CPC is the country's pioneering organization, its members and office bearers have to fulfill higher requirements. The CPC is the ruling party of China and most of the country's officials are its members. So it is necessary that the officials follow higher disciplinary standards, which will ensure that they stay clean.
Another obvious move of the Central Commission for Discipline Inspection, the Party's top anti-graft watchdog, is strengthening self-regulation, for which officials at various levels of disciplinary commissions are required to be especially cautious and to stay clean.
Some weeks ago, Liu Xiangdong, former disciplinary inspection team leader of North China's Shanxi province, and a similar official in Central China's Anhui province were put under investigation for alleged corruption. This is a very important move because if officials fighting corruption are themselves corrupt, they will ruin the political ecology like HIV ruins the immune system of a human body. There is no alternative to eradicating corruption from disciplinary committees, because anti-corruption agencies will be discredited if even one of its members is corrupt.
These trends are expected to continue in 2016, as the top leadership will focus more on the "flies" that directly compromise ordinary people's interests, and more strictly enforce discipline so that people don't feel the anti-corruption campaign has eased.
Also, the ongoing efforts to restructure the anti-graft agencies could be expedited. This year has seen disciplinary committees at various levels getting more power to fight corruption independently; the coming year might see more emphasis being laid on the coordination of other departments with them.
The top leadership might also review the results of the anti-corruption drive in the past years and devise better mechanisms to regulate power, which would be a key step toward institutionalizing the anti-corruption arrangements in order to eliminate corruption from the roots, instead of just curbing it.
Du Zhizhou is a professor at and deputy director of the Center for Integrity Research and Education at Beihang University. This is an excerpt from his interview with China Daily's Zhang Zhouxiang.